Original ACTION bus comes home after 40 years on the road
After more than 40 years on the road, one of Canberra's original ACTION buses has come home to be revamped and reunited with its former driver.
The MAN SL200, which started running in the ACT in 1976, is just one of several former ACTION buses being lovingly restored by Canberra transport enthusiasts.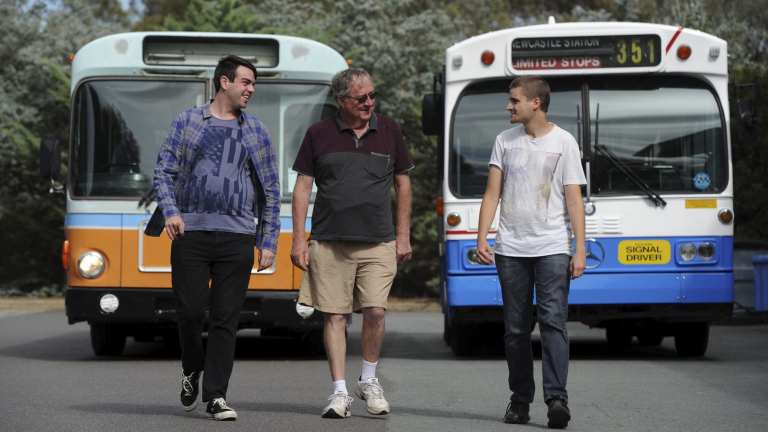 Retired ACT Transport Employees Club heritage officer Todd Milton said the bus had been donated to the club by Singleton-residents Ian and Claire Saxby, who had been using it as a school bus.
"Basically it came to the point where they were selling it [but] all the offers they were getting for to use it as a campervan," he said.
"They didn't want to sell it for a campervan, they wanted someone to preserve it."
Mr Milton said it would take a lot of work to bring the original ACTION bus up to scratch but, once it was restored, he hoped to put it on public display and take people for rides on it.
Club president Ian Baker said he drove the SL200, among other buses, back when it ran in the ACT decades ago.
"Life as a driver was pretty good actually because you did regular runs and you got to know your passengers. Now you're here, there and everywhere," he said.
Mr Baker said seeing the old ACTION buses on the road had been good for his members. "The old people remember it and they think of the good old days," he said. "Gives some of them some joy, gives all of us some joy."
A number of ACTION buses have been bought by collectors across the ACT and NSW with the purpose of restoration.
In Sydney, former Canberra resident Mat Barber joined with Mr Milton to renovate ACTION Bus 675, a Renault PR100.2 built in 1987.
He said he'd wanted to buy and restore one of the buses which he caught to and from school when he was younger.

"[I've] always been interested in the transport industry and growing up in Canberra that was basically buses and nothing else," Mr Barber said.
"Some say we're crazy and don't understand it, others say they're jealous."
Ben Westcott is a reporter at The Canberra Times.