Outdoor urinals prove popular with city revelers
Traders will be consulted before Canberra CBD commits to the permanent installation of outdoor urinals in the city centre after a successful trial at late-night hotspots.
It was estimated 2162 men used the urinals - and 655 litres of urine was collected - during the trial which took place over Thursday, Saturday and Sunday nights from March 14 to April 1.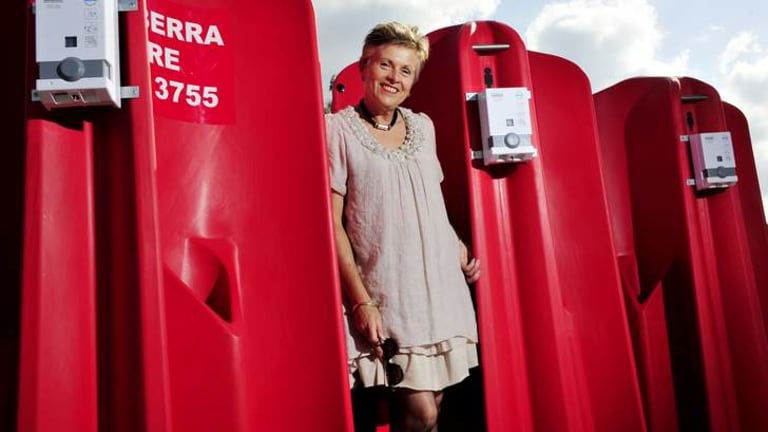 The most popular night was Thursday, March 28, the night before the Easter break, when 330 men used the portable urinals.
Canberra CBD Limited chief executive officer Jane Easthope was pleased with how the trial was received by the traders and property owners who were sick of men peeing on their buildings and in laneways.
''We are particularly pleased that the men in the clubbing and pubbing community enjoyed the convenience of the portable urinals, even if they were bright red and somewhat exposed," she said.
Ms Easthope said the owners and traders would now be consulted on whether the urinals should be used long-term or another trial conducted at a busier time of year.
''We also need to ascertain if we had placed the urinals in the most effective spots around the CBD. I'm surprised that the urinal tucked in behind the Sydney Building was the least popular, however I'm not surprised that the most popular urinal was at the bus interchange which also serves as a night time taxi rank,'' she said.
The Kros urinals were placed in the Sydney Building's Verity Lane (behind Moosehead's pub on the median strip), in the bus interchange on the corner of Alinga Street and Verity Lane, and on City Walk near the corner of Saraton Lane (opposite King O'Malleys pub).
Morning & Afternoon Newsletter
Delivered Mon–Fri.