Out-of-pocket childcare costs rise Australia-wide, hurting Canberrans most
Analysis from consultancy firm Hamilton Stone showed out-of-pocket childcare costs have risen over the past five years, disproportionately affecting lower-income families and leaving Canberrans paying more.
Between 2011-16, Australian households earning under $55,000 a year paid 60 per cent more, with out-of-pocket costs slowly decreasing as earnings rose, with a family on $135,000 facing a rise of about 30 per cent.
In the ACT, costs have risen by about 50 per cent in the same period, but analysis showed Canberra was more expensive than the national average.
Hamilton Stone policy researcher Lisa Fenn said childcare costs had increased despite Commonwealth funding, reducing the disposable income of families.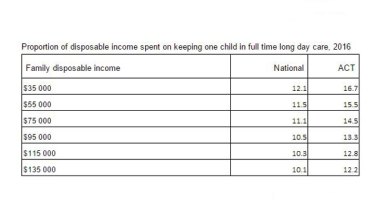 "In all income brackets, ACT families devote more of their household budget to childcare than the national average," Ms Fenn said.
Canberra households earning less than $55,000 spent up to 16.7 per cent of their disposable income on childcare in 2016 compared with the national average of up to 12.1 per cent.
"If you're low paid in the ACT, one in every six dollars out of your pocket is going into providing care for your child," Ms Fenn said.
"The disparity in cost growth between rich and poor is even greater than the national picture."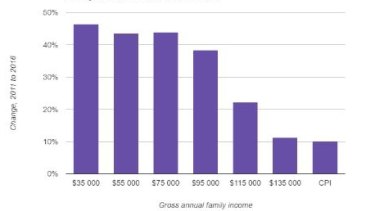 Households earning close to Canberra's average wage of $75,000 spent 14.5 per cent, compared with the national average of 11.1 per cent.
Nationally, Ms Fenn said low-income families were being hammered, with three problems facing the government and the community — the rapid rise in childcare costs, the cost disparity between lower and higher income earners and rising costs despite Commonwealth spending.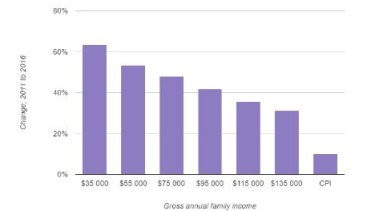 "In just five years, Commonwealth childcare expenditure per child grew 17 per cent above inflation," Ms Fenn said.
Early Childhood Australia chief executive Samantha Page acknowledged Canberra was relatively expensive for long-day care and lower-income families were most affected.
In the ACT, the disparity in cost growth between rich and poor is even greater than the national picture.

Hamilton Stone policy researcher Lisa Fenn
"One of the features of Canberra is that there is limited price diversity," she said.
"It is not surprising that Canberra has less price diversity than other states and territories because there is not the diversity of outer suburban, inner and outer regional as well as remote services, which tend to have lower-cost services, reducing average fees.
"One of the factors in affordability is that more and more families are reaching the $7500 annual cap on childcare rebate before the end of the financial year."
Ms Page said proposed subsidy reforms in federal parliament would lift the cap and pay a higher rate of subsidy for low and middle income families, with 75 per cent of working families better off under the new arrangements.
"This won't bring relief until July 2018, but it will be welcome change," she said.
Ms Page said that in places such as Sydney, parents could find significant savings by shopping around.
"While there may be a 'premium' long-day care service charging $165 per day, nearby there may be another charging $105 per day [the fees quoted are before childcare subsidies which cover part of the cost]," she said.
"These variations tend not to be so common in Canberra.
"This is partly due to relatively long operating hours – one of the cost drivers in long-day care is the operating hours of the centre and Canberra centres tend to open early and close late to offer families full flexibility."
Ms Page said this was likely a response to the nature of work in Canberra – in areas where parents work longer hours centres tend to operate longer hours.
"The long-day care market in Canberra has been growing very fast," she said.
"I believe more than 20 new centres opened their doors in the past 12 months.
"That should be creating more competition, so we should see at least a break on fee increases.
"But I would not be expecting fees to go down; there is an underlying cost of service delivery that hasn't changed and 70-80 per cent of that cost is wages, with rent and operating costs also a factor."
Finbar O'Mallon is a reporter for The Canberra Times