Pareidolia: Cloud gazing at Megalo Print Gallery shows imagination and technique
Pareidolia: Cloud gazing. Various artists. Megalo Print Gallery, 21 Wentworth Avenue, Kingston. Until April 1.
In the famous exchange between Hamlet and Polonius, the Prince of Denmark claims that "yonder cloud" is almost "in shape of a camel" or a weasel or "like a whale", and on all occasions the courtier agrees as the obedient cloud takes on its various disguises.
The technical term for seeing animals, faces or objects within cloud formations is pareidolia – from the Greek – "instead of" plus "image". This equally applies to seeing rabbits in the moon or a face in bunches of grapes in the wallpaper patterns, while the Rorschach inkblot test employs pareidolia as a strategy through which to gain an insight into a person's mental state.
The new exhibition at Megalo is titled Pareidolia: Cloud gazing, where 10 printmakers have been invited to look at clouds, from both sides, and to discover for themselves hidden images. The 10 artists involved are Surya Bajracharya, Georgia Black, Waratah Lahy, Barbara McConchie, Peter McLean, Al Munro, Sandra Pitkin, Erica Seccombe, Ulrike Sturm and Jason Wing. Predictably, the result is as diverse as the participating artists with a few standout performers.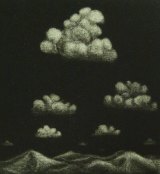 The flexible Peter McLean has opted for the painstaking technique of mezzotint, where the artist works from dark to light and mysterious faces peer out at us from the clouds. Although the scale is small and the medium intimate, the effect is that of a vast and challenging skyscape from which whimsical images emerge. One must remember that Hamlet was only feigning madness when he claimed to see his camel and there is this sense of playful inventiveness in McLean's prints. It is a perfect combination of medium and the desired impact.
Erica Seccombe's Fission is a clever screenprinted dot grid where our eye is invited to inhabit this sizeable print and discover our own camels and weasels. Its crispness and almost op-art like quality gives it a pulsating intensity. At the opposite end of the emotional scale are the romantic daydreams by Surya Bajracharya. They are his version of the Rorschach inkblots where he declares in his titles that he is In the mood for love and the watery monochromatic monoprint technique permits the veil of free association.
Waratah Lahy exhibits a couple of small colour monotypes, where light mysterious forms emerge like hovering UFOs. It is possibly my imagination, rather than her prints, but I found something slightly menacing and disturbing in her image of a transfigured suburbia. Barbara McConchie exhibits a couple of ghostly images that are arresting in their subtlety. In a technique that she describes as a combination of pencil plus lino frottage, she creates fine melting forms that invite ambiguity in their interpretation. It is the sort of work that you examine and digest with your eyes and then invent your own narrative that may be quite independent of that of the artist.
Pareidolia is a lovely exhibition in which the imagination, plus an excellence of technique, triumphs over any physical reality.