Parliament House to pump Lake Burley Griffin for water supply in $5m project
A proposed new pipeline would pump water from Lake Burley Griffin to irrigate Parliament House's grounds in a $5 million building project the federal government hopes will protect its supply from rising usage costs and dry spells.
Under plans for the latest renovation to the building, a 1.5km underground pipe would carry water from the lake through a pump station onshore near the Canberra Yacht Club up to Capital Hill, as Parliament House moves to stop using its potable water supply for irrigation.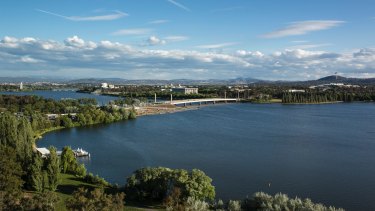 The ACT government has granted the Department of Parliamentary Services, which oversees the building, permission to draw 115,000KL of raw water annually from Lake Burley Griffin to be treated and used on its grounds.
Parliament House expects using its potable water to irrigate its multiple courtyards and lawns - an exercise that consumed 97,000KL last year - will cause headaches as water utility costs rise and dry weather spells grow more frequent.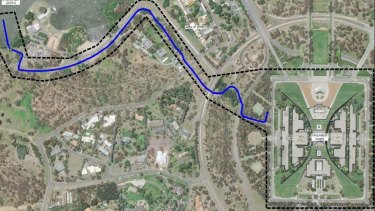 A 2014 study found Lake Burley Griffin could provide a safe, reliable and cost effective supply for landscape irrigation, which saps up to 60 per cent of the building's water use.
Parliament House would be allowed to use 1.5 per cent of the water available from Lake Burley Griffin, and the pipeline would operate by the second half of 2019 under the plan.
While the National Capital Authority overseeing the parliamentary triangle gave the green light to early plans in April, it won't grant final permission until the government has chosen a contractor.
The pipeline would add to a growing list of redesigns and makeovers for Parliament House as it approaches 30 years in 2018, including skylight repairs, a controversial security fence stopping visitors from walking up the building's lawns, and a fix for leaks in its front courtyard pond.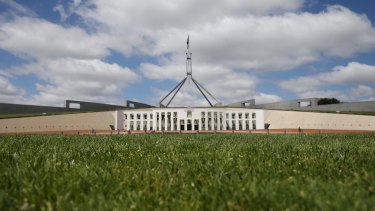 Parliament House's Senate car park will also be home to a lake water treatment system, a pump station and a series of distribution pipelines through to the building's loading dock.
It is understood the plan will not permanently reduce access to Lake Burley Griffin, while reduced access during construction will be temporary and localised, and low level traffic disruption is predicted.
The plan comes after the ACT government previously permitted Royal Canberra golf course in Yarralumla to use up to 366,000KL of lake water per annum, or 5 per cent of the area's available water.
The ACT Heritage Council found the pipeline would pose no threat to heritage properties in its path, which extends through a previously disturbed area of the Early Canberra Workers Settlement in Yarralumla and near the Surveyor's Hut on Capital Hill.
Parliament House used 3 per cent more water for irrigation last year, but it consumed 13 per cent less water overall as its building water use fell by a quarter to 102,000KL.
Potential contractors have until January 19 to submit a tender.
Doug Dingwall is a reporter for The Canberra Times covering the public service and politics.