Pay deal unveiled for Canberra's tram construction workers
Construction workers on Canberra's tram will be paid between $36 and $48 an hour, including a $5.50 an hour project allowance.
In a deal blasted by business leaders, who say it will distort construction wages across Canberra and drive civil contractors to the wall, the tram builder has negotiated with the construction union to directly employ as many as 250 workers.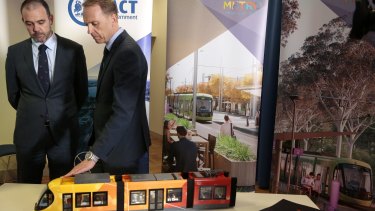 The agreement, yet to be signed, pays ordinary wages of $30.23 an hour for first-time workers, rising to $42.55 an hour. On top of that is a "project allowance" of $5.50 an hour, which folds in a range of award allowances, plus a daily travel allowance of $32.75, paid for work days and rostered days off.
Construction staff will work 40 hours a week, but be paid for 36 hours and get 26 paid rostered days off a year. Each week, $98 will be paid into a redundancy fund for each worker, which they will get when their work on the project stops.
Afternoon and night shifts get a 50 per cent loading on top of ordinary pay. Overtime is paid at time-and-a-half for the first two hours, then double time. Double time is also paid after noon on Saturday and on Sunday, while double-time-and-a-half is paid on holidays.
Construction, Forestry, Mining and Energy Union assistant secretary Jason O'Mara said he was "flabbergasted as to why there's such a big deal around this agreement", which was standard in infrastructure projects.
The Master Builders Association believes the government will sign a contract this week with Canberra Metro to build and operate the tram and has called for a delay.
Canberra Metro plans to employ about 250 construction workers itself, and another 250 through subcontractors, but the ACT Civil Contractors Federation, whose members have rejected the CFMEU enterprise bargaining agreement this year, believes members will be bypassed on the build and those who do get work will be forced to pay inflated rates.
The union counters that there is no "jump up" clause in the proposed agreement, so subcontractors will not be forced to pay the higher rates.
<!--[if gte mso 9]><![endif]--><!--[if gte mso 9]>Normal0falsefalsefalseEN-AUX-NONEX-NONE<![endif]--><!--[if gte mso 9]>