People are being asked to take photos of carp getting it on around Canberra
It's the conservation campaign that could make David Attenborough blush. As the weather heats up, so too does the romantic life of that notorious freshwater pest, the carp.
This spring, Canberrans are once again being asked to whip out their phones and snap a picture or video of carp "getting it on" in order to, um, monitor their breeding.
Organised by Waterwatch and supported by the ACT government, the campaign asks locals to listen for the telltale splashing of carp in the act. They can then log their sightings at the Feral Fish Scan website and share photos and video on social media using the hashtag #CarpLove20.
There's even a fetching line of free T-shirts up for grabs for anyone who manages to catch the carp on camera.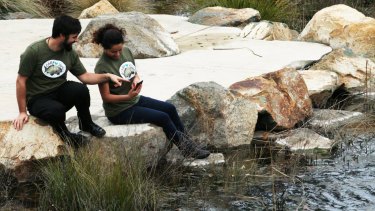 "Don't be shy," said ACT Minister for Environment and Heritage Mick Gentleman.
"Basically, we need everyone to be on the look-out for carp doing what comes naturally between October and December."
Since the predatory fish were introduced into Australia in the 1850s, their populations have exploded, clogging waterways and reducing water quality.
Last year, carp were famously vilified by Deputy Prime Minister Barnaby Joyce in Parliament as "disgusting mud-sucking creatures" and in the ACT they've become the target of government catch and destroy programs.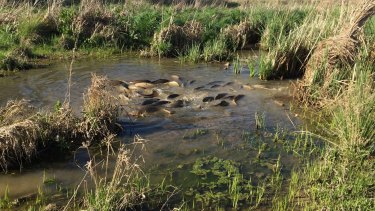 More than five tonnes of carp were removed from ACT waterways in April.
"Hardly any native fish were found," Mr Gentleman said. "Carp make up more than 85 per cent of the biomass in our waterways and cause significant environmental problems."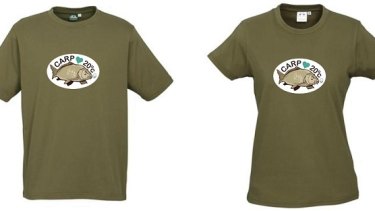 Regional facilitator for Waterwatch Woo O'Reilly said during spring when the water warms up to about 20 degrees, carp begin to spawn.
The fish will congregate in their hundreds and thousands over tree roots and aquatic plants to spread their eggs. Males chase the females around, leading to that easy-to-spot splashing.
"Often you'll hear carp before you see them," Ms O'Reilly said.
"During spring, they really change their behaviour, they'll come up to the surface, splash around, and they're a big fish.
"Anyone can see them, you don't have to be an angler or a fish person."
Now in its third year, the #CarpLove campaign proved so popular in 2015 Ms O'Reilly said they quickly sold out of T-shirts.
"And then last year with Barnaby Joyce's speech in Parliament, well he certainly helped raise the profile of carp in Australia," she said.
A female carp lays anything from one million to eight million eggs, although the actual numbers are hard to count.
The federal government is currently working on a $11 million plan to unleash a "Carpageddon" herpes virus on the national population come 2018.
Ms O'Reilly said the data from #CarpLove20 could help target where to release the virus if the plan gains final approval.
"[Carp] cause significant environmental issues so the more we know about where they breed the better," the ACT Parks and Conservation Service said in a Facebook post on Monday.
"That splashing in the lake may not be as innocent as you think..."
#carplove20 sightings must be of carp in the upper Murrumbidgee catchment within the ACT and surrounding NSW regions, including Yass, Queanbeyan and Cooma, during this spring season. Data collected will help inform the research of the Invasive Animals Cooperative Research Centre.
Sherryn Groch is a reporter for The Canberra Times, with a special interest in education and social affairs