Philanthropist gives $2.5m to ANU policy think tank
In one of the most significant donations ever given to the Australian National University, philanthropist and communications strategist Harold Mitchell has given $2.5 million for the Development Policy Centre in the Crawford School of Public Policy.
ANU Vice-Chancellor Professor Ian Young said the generous gift from the Harold Mitchell Foundation would allow the centre to continue its important work generating new ideas on aid and development policy and that the ANU would match the donation, bringing the total value of support the centre is receiving to $5 million.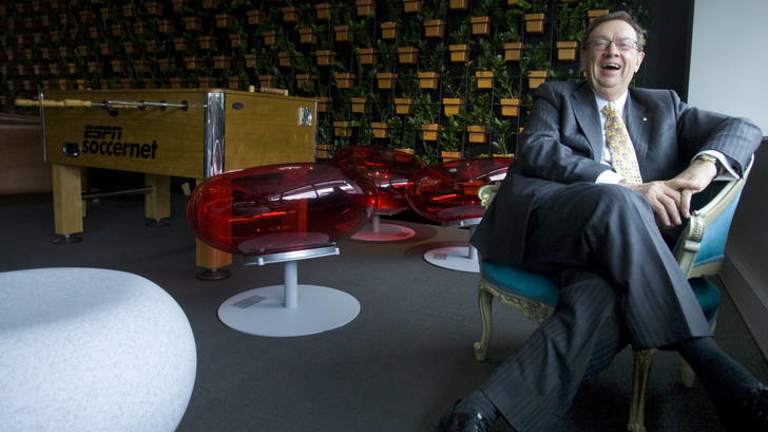 The centre, established in 2010, is Australia's first independent think tank to promote research and discussion on issues such as aid effectiveness, economic development in the Pacific and Papua New Guinea, and other development policies.
''In the two years since its establishment, the Development Policy Centre has grown significantly. The philanthropy of the Harold Mitchell Foundation will help sustain this growth,'' Professor Young said.
''The centre is generating expertise, knowledge and new ideas on aid and development policy. The university is committed to enhancing public policy and the centre is making an important contribution to achieving this objective.'' The Harold Mitchell Foundation, which was launched in 2000, funds programs in health, education and the arts that make a positive and sustainable difference in Australia and the Asia-Pacific.
Mr Mitchell founded the media company Mitchell & Partners in 1976. It is one of the country's largest media and communications groups. He is also the executive chairman of Aegis Media Pacific.
He is also chairman of CARE Australia, the Melbourne Symphony Orchestra, and Art Exhibitions Australia. He was formerly the chairman of the National Gallery Australia. Mr Mitchell was appointed Companion of the Order of Australia in 2010 for service to the community through philanthropic endeavours in the fields of art, health and education and as a supporter of humanitarian aid in Timor-Leste and indigenous communities.
Of his decision to donate to the ANU, he said: ''I am a great supporter of the Australian aid program and I see this funding as an important contribution to supporting accountability and transparency, which are major priorities for AusAID''.
Development Policy Centre director Professor Stephen Howes said the funding would support the centre's core functions of research and encouraging public discussion.
''With the rapid expansion of the Australian government's aid budget, it is critical that there be more public debate and discussion on how those funds can be best used,'' Professor Howes said.
The funding will also support the establishment of a new annual public lecture series.
The inaugural Harold Mitchell Development Policy Lecture was delivered on Thursday by the Finance Minister of Timor-Leste, Emilia Pires, who spoke on ''Timor-Leste and the new deal for engagement in fragile states''.