'Phone was to film myself', cadet allegedly told supervisor
An international officer cadet accused of filming a fellow cadet in the shower told a supervisor he never intended to film the woman, a court has heard.
Obaid Fayyaz is in the ACT Magistrates Court fighting an allegation he committed an act of indecency on the woman without consent.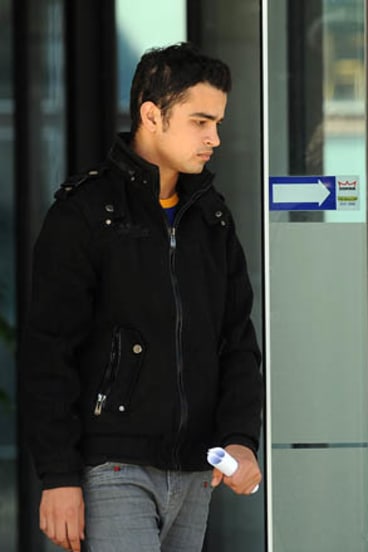 It's alleged the woman found Fayyaz's mobile phone in a shower vent at the Australian Defence Force Academy in August last year.
In the wake of the incident the 21-year-old allegedly told a supervisor he had left the camera in the shower to film himself for his fiancé.
A video recorded on the phone has been played to a closed court.
After discovering the phone the alleged victim went to the academy authorities.
Flight Lieutenant Courtney Westphal was the divisional officer supervising both Fayyaz and the complainant in the case.
Lieutenant Westphal said Fayyaz approached her in a common room after the discovery of the phone and said, "Ma'am, can I have a second chance".
That evening Fayyaz was admitted to the academy hospital in a state of apparent distress, refusing to eat.
Lieutenant Westphal told the court she spoke to Fayyaz in hospital after his arrest, where he again asked for forgiveness.
"He told me that he wanted a chance to talk to me so that he could apologise to myself," the witness said.
"He also wanted a chance to tell [the complainant] so he could apologise to her in person."
Lieutenant Westphal said Fayyaz told her he placed the phone in the shower to film himself for his fiancé.
The supervisor said that was the first time she'd been made aware Fayyaz had a fiancé.
Under cross-examination from defence lawyer John Harris, SC, Lieutenant Westphal described Fayyaz, a Pakistani national, as a a gifted student.
"In fact he was doing remarkably well, wasn't he," the lawyer asked.
"He was one of the best in my division," she replied.
The hearing before Magistrate Peter Dingwall continues.
Morning & Afternoon Newsletter
Delivered Mon–Fri.