Photography exhibition at China in the World at the Australian National University examines the experience of mainland Chinese in Hong Kong
It's a monolithic economic power that is evoked daily in multiple aspects of Australian society – politics, news, popular culture.
But when it comes to China, what springs to mind when you hear the term "Mainlanders"? Is it a vast, unknowable morass of people all riding high on the same economic boom, with little or no connection to the rest of the world? Or something far more nuanced?
It's a question worth asking even in Hong Kong, which is drawing young Mainland Chinese from all over China. These migrants, who have crossed the water for diverse reasons – family, career, education – often find themselves in an obscurely hostile environment, a discriminated majority that is subject to entrenched prejudice.
The subject has long interested photographer Wei Leng Tay, whose work examines how such issues – socioeconomics, family, history and the state – interact with themes of displacement and self-identity. In an exhibition showing at China in the World at the Australian National University, she presents a series of portraits of Chinese "Mainlander" migrants in Hong Kong, revealing them to be both a series of individuals and a byproduct of rapid economic change.
Curator Olivier Krischer, who has known Tay for several years, says the show has been tailor-made for the ANU's fledgling academic school, with specially-made lightboxes, and the school's inevitably diverse audience.
"This work really resonates differently with audiences closer to Hong Kong, but there is an implied universal experience here too – particularly in Wei Leng's tendency to not present the subjects as individuals but rather leave a lot unsaid," he says.
The show merges photography with audio and transcripts, which has the effect of personalising an experience shared by a large body of people.
"The transcripts personalise the ideas in the project, but it's impossible to see who is saying what, so the audience input is important," Krischer says.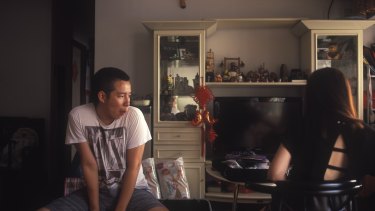 "China in the World is special in that we can be assured of a diverse audience, just as likely to be Chinese speaking as not, including those who are Chinese, have Chinese background, and, of course, many others. This is one reason this particular project seemed so apt for its gallery and the ANU context."
He says the aim of the show is to present a collective of people – "Mainlanders" – as, in fact, as diverse as any other large population, especially those beset by prejudice or misunderstanding.
"As with any situation of opposition, identity politics, discrimination, people's identities are simplified for convenience," he says.
"The media in this case hasn't really done much to trouble this process; whether it has been 'pro-Beijing' or 'pro-Hong Kong', there are few voices asking who these 'Mainlanders' are."
Tay began her project with a focus on such identity politics, but quickly realised that there were too many diverse experiences of mainland transplants to be able to comment with anything like a collective conclusion. This realisation is reflected in her thoughtful, poignant images of everyday life. Waiting for a bus on a light-streaked street, lounging in a cluttered apartment, or staring, quite literally, across the water on the edge of a port – these could be people anywhere, in any girt-by-sea country.
"Some are new arrivals passing through for work, but others migrated to Hong Kong when they were children and now identify as 'locals' – even if their parents, in some cases, aren't fluent in the local Cantonese language, for example," Krischer says.
"In this respect there are similar issues of migration and identity that also affect migrant communities and experiences in places like Australia. Many of the younger Mainland Chinese also spoke about experiences growing up, their relationships with their parents or expectations for well-off – and often politically well connected – parents. The details may be specific but the sense of intergenerational change, identity, displacement, upward aspiration – these are more human, more empathetic, than the political discourse around these communities."
The Other Shore, by Wei Leng Tay, is showing at China in the World, ANU College of Asia & the Pacific, until July 15.
Sally Pryor is a reporter at The Canberra Times.