Police escort ANU council members through angry protesters
Australian National University (ANU) council members were escorted out of the chancelry by 25 police officers at the university's Acton campus on Friday, as protests continue over the proposed deregulation of fees set out in the federal budget.
A heavy police presence greeted the protests which began at 8am on Friday morning. Two separate squads of police, including a team of five dressed in plain navy, brought an AFP riot van and a police cameraman sporting a television-grade camera to the small rally.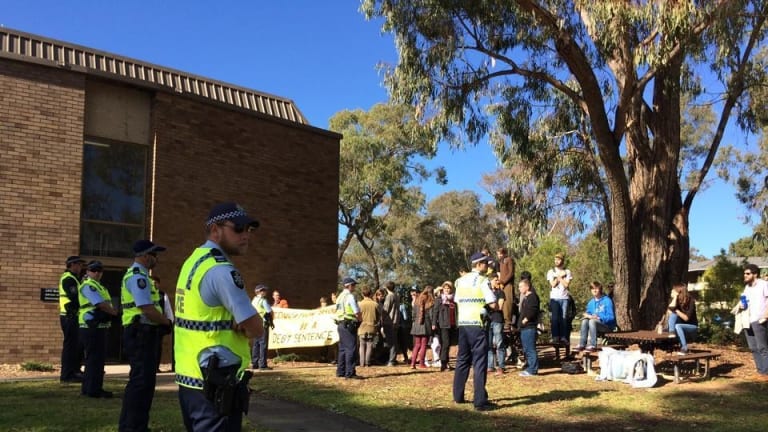 The protests peaked when the council members left the chancelry via a side door as police formed a tunnel for them to walk past the 30 student protesters, to an awaiting minivan.
At one point ANU pro-vice-chancellor Richard Baker came out of the building and asked six student representatives to come upstairs and air their views at the council meeting.
The student groups had previously requested to have observers at the meeting, and had prepared questions, according to ANU environmental science student Amelia Filmer-Sankey, 22.
She said they were told Professor Baker would come down at 11am, to receive their questions, but the group chose not to send representatives as "we realised we had not been given enough time to be fairly represented."
Ms Filmer-Sankey said she did not represent the students, but was personally disappointed in the role the ANU executive was playing in the deregulation.
Last Wednesday hundreds of students turned out for a demonstration at the campus against proposals to uncap HECS fees set out by the federal government.
ANU Vice Chancellor Ian Young and his staff were stuck inside the chancellery building for a number of hours during last week's protest.
Morning & Afternoon Newsletter
Delivered Mon–Fri.