Police remember fallen colleagues on National Police Remembrance Day
Senior Sergeant Paul Faustmann stands in driving rain, remembering a mate whom he may have outranked, but always looked up to.
"I knew Michael for about five years and in that time, our bond, we became exceptionally good friends both off-duty and through work. Despite him being a junior rank to myself he was a mentor, he was a man of many years experience and a very wise man and somewhat of a father figure," he said.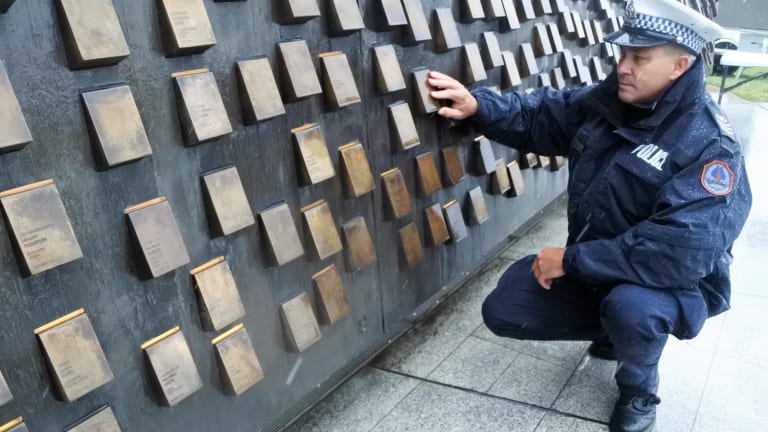 Senior Constable First Class Michael Read, 55, died of a heart attack while serving with the Northern Territory's Water Police in December 2014.
His name is one of seven which will now join those of other police officers who died doing their duty.
This National Police Remembrance Day marked the 10th anniversary of the National Police Memorial on the northern shore of Lake Burley Griffin.
The memorial honours more than 750 members of Australian police forces who have died in the line of duty since 1803.
Accountant Curtis Cheng also had his name added to the wall, almost a year to the day he was gunned down outside NSW Police Headquarters.
Sergeant Faustmann delivered Senior Constable Read's touchstone to the wall and said the Read family were there to witness its final resting place.
"It's been a massive journey for everyone," Sergeant Faustmann said.
"He was a gentleman I used to enjoy a coffee with every morning and he was a sounding board and somewhat of my rock, so it's been challenging for me on a personal level over the last 12 months due to not having that person there, the change in my routine and the reliability he provided. He was an exceptional police officer who was very dedicated to the cause."
Despite the inclement weather, National Police Remembrance Day in Canberra was marked with an evening service, a parade and, oddly, random breath-testing.
Historic and contemporary police cars conducted random breath-testing on the NSW/ACT border to commemorate the introduction of RBT into Australia in 1982.
Perhaps most importantly, it was a chance for police officers from all parts of Australia to gather and remember their friends who no longer stand shoulder to shoulder with them.
"The camaraderie among the police force is just outstanding and we are brothers and sisters, we all experience the same ups and downs in our careers and to actually get together and share our experiences has been outstanding," Sergeant Faustmann said.
Katie Burgess is a reporter for the Canberra Times, covering ACT politics.