Political attention on Narrabundah slasher
His or her reign of tyre terror has lasted more than two decades but the notorious Narrabundah slasher may finally have attacked the wrong car.
Police have been trying for years to capture the person responsible for slashing car tyres in the inner-south.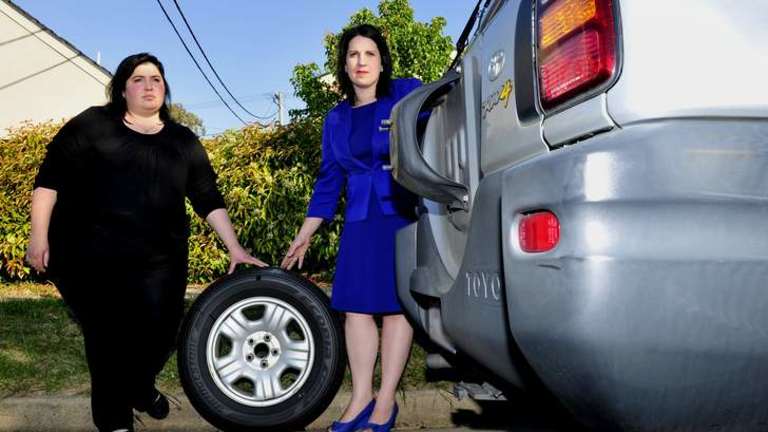 After two - possibly three - attacks on a car belonging to her sister, Liberal MLA Giulia Jones is determined to ensure the slasher is brought to justice.
Earlier this year, the slasher punctured all five tyres on a car belonging to Mrs Jones' sister Lucia MacFarlane, who lives in Narrabundah.
And on Sunday morning, Ms MacFarlane awoke to find another tyre had been slashed.
By Monday, another tyre was flat.
''We don't know if it was a second attack or if it was pierced the first time and it was a slow release,'' Mrs Jones said.
The Liberal MLA said it was high time the culprit was caught and she has suggested surveillance cameras might be a useful slasher-detecting tool.
''It's over a decade and the people of Narrabundah seem to have been mildly terrorised by somebody,'' she said. ''I'm just wondering why we haven't taken proactive action to apprehend this guy - or these people.''
Police had previously identified a suspect and executed a search warrant on a home in April. But they failed to turn up enough evidence to enable a prosecution.
Sergeant Steven Hogarth, of Woden Police Station, said investigations of the attacks continued.
''ACT Policing is aware of four recent tyre-damage incidents since September 5, three at an address in Narrabundah and one in Griffith,'' Sergeant Hogarth said.
''ACT Policing has experienced significant under-reporting or dated reporting of tyre damage.
''It is important for ACT Policing to receive reports of any tyre damage as soon as it has been identified.''
Sergeant Hogarth said residents who found damage to their tyres should contact police so that forensic evidence could be gathered.
Mrs Jones said sufficient police resources needed to be committed to stopping the crime.
''You go to bed at night unsure what's going to become of your car by the next morning. It feels like an invasion of your private space.
''People shouldn't have to live like that.''