Probe on death cap restaurant concerns
UPDATE: Harmonie German Club offers condolences
ACT Health is investigating information that the fatal Canberra New Year's Eve meal at which death cap mushrooms were served was prepared in a commercial kitchen.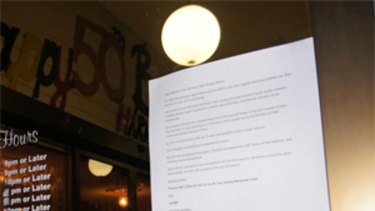 ACT Health last night issued a statement stressing the incident posed no danger to community safety but did not name the restaurant.
A sign on the front door of Harmonie German Club in Narrabundah last night said its Chinese Bistro would be closed until further notice.
The sign said that it was informing the community with the ''greatest regret'' that chef Liu Jun and kitchen hand Tsou Hsiang ''made a deadly mistake and ate some mushroom (death caps) that they mistook for Chinese straw mushrooms''.
A statement by ACT Health last night said the ''food business'' had been closed since New Year's Day, and health officials were continuing to investigate.
''The Health Directorate has been advised that the consumption of this food was for a private meal and no food containing the mushrooms was provided to the general public or anyone outside of this small group,'' a directorate spokeswoman said.
The Canberra Times does not suggest that the mushrooms were prepared for public consumption in the Harmonie German Club Chinese Bistro kitchen.
Mr Liu's friend Tom O'Dea yesterday said Mr Liu was obsessed with fresh food, and probably picked the poison mushrooms in Braddon on his way home from work.
The meal was consumed at a dinner later that night by four friends, who were not members of the same family as previous reports suggested.
Mr Liu and Ms Tsou, a 52-year-old Chinese national, had been in Canberra for several months on a tourist visa, were rushed from Canberra's Calvary Hospital to Sydney's Royal Prince Alfred Hospital in a critical condition on Monday afternoon.
The pair died overnight on Tuesday from liver failure.
Another man, believed to be in his 30s, ate just a small amount and was discharged from Canberra Hospital on Tuesday.
Mr O'Dea said another person at the dinner did not eat any mushrooms and escaped unscathed.
''Liu Jun being a chef, he's super into fresh food, and that's part of the problem here,'' Mr O'Dea said.
''You really just don't expect that you make one mistake while eating something like that and you'll be dead, and dead within 48 hours in the most horrible way.''
A 51-year-old man who remains in the Royal Prince Alfred Hospital recovering from death cap mushroom poisoning was yesterday upgraded to being in a stable condition, an RPA spokeswoman said.
ACT Health initially said the man was part of the same group, but ACT Policing and the Health Directorate confirmed yesterday this was not the case. It appeared the illnesses were coincidental, but unrelated.
Death caps, commonly found near established oak trees in the ACT, are among the world's most deadly mushrooms. They have a smooth, yellow-green to olive-brown cap, white gills and a white stems.
Mr O'Dea said Mr Liu had been working in Canberra to send money back to his wife and two children - a boy, 7, and a girl, 11. Mr Liu's wife is now desperately trying to come to Canberra. But without a passport or visa, she is enduring lengthy bureaucratic fights to cremate her husband. Miss Tsou's adult son is facing similar frustrations and, with low wages in China, the pair are unable to pay for the expensive airfares, transport, accommodation and funeral arrangements.
Mr O'Dea and the pair's friends had established a memorial fund to help the victims' families.
To donate, visit any branch of the ANZ bank and quote Thomas Neil O'Dea for The Liu Jun and Tsou Hsiang Memorial Fund. BSB 012084, Account number 204361633.