Psychological thriller about a literary battle of wills
Switzerland. By Joanna Murray-Smith. Directed by Jordan Best. Pigeonhole Theatre. The Courtyard Studio, Canberra Theatre Centre. July 3-14. Season sold out except Monday, July 9 at 7.30pm. canberratheatrecentre.com.au or 62752700.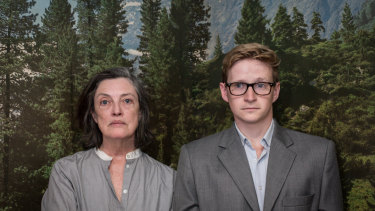 Patricia Highsmith loved snails and kept them in her home. She once took some to a party in her handbag along with lettuce leaves. When people asked why, she replied, "I wanted some good company."
Highsmith (1921-95), the author of Strangers On A Train and The Talented Mr Ripley, among other books, was a fascinating character, says Karen Vickery. She's playing the writer in the comic psychological thriller Switzerland.
"She's difficult, misanthropic, brilliant and funny," Vickery says of the Highsmith depicted in the play.
"She doesn't take fools gladly and she takes no prisoners."
Vickery says Highsmith is "also full of prejudices" and "pretty extreme", reflecting the real-life woman: "People who knew her either say she was very, very kind or very, very misanthropic."
Australian writer Joanna Murray-Smith's play Switzerland is a fictional conceit set in the last 12 months of Highsmith's life. The Texas-born writer lived her final years as a recluse in Switzerland. Her books were far more appreciated as literature in Europe than in her native US, where she was sometimes regarded, in Norman Mailer's dismissive and rather inaccurate words, as "a high-class detective novelist". By contrast, Graham Greene, an admirer, called her "the poet of apprehension rather than fear".
In the play, Highsmith, knowing her next book will probably be her last and wanting it to be something important, is suffering from writer's block. Into her solitary life comes Edward Ridgeway (Lachlan Ruffy), an eager young man sent by her American publishing house to convince her to write one last Ripley novel.
Vickery says, "She sees it as insulting that her publishing company would send such a junior."
But one of the reasons she lets him in is he is bringing her American items she can't get in Switzerland - things like peanut butter, cream of mushroom soup and the Columbia University notebooks she likes to use when writing.
Ruffy says Ridgeway is "very positive and very confident in his ability to make everyone happy, to come up with the best result for everybody. He's trying to make a good impression."
He comes in as the antithesis of Highsmith, Ruffy says, and is a little taken back by the severity of her personality, but proves to be a good adaptor - better than the previous emissary, for whom things turned out badly.
"He didn't last the night," Ruffy says.
Ridgeway turns out to be made of stronger stuff, however, and set in his purpose: he needs to get her to sign the contract in order to keep his job but she doesn't want to write another Ripley book and had no hesitation in making her feelings clear.
Ruffy says, "It's a battle of wills between the two of them throughout - neither of them wants to relinquish any power."
Highsmith is tough, but Ruffy says, "There's a lot of playfulness in her aggression, a lot of joy in her venom."
Vickery adds, "It's funny but terrifying at the same time ... It's a real tussle."
And as Ridgeway reveals there's more to him than was initially apparent, it seems there may be more going on in this scenario than simply a negotiation over a book contract.
Vickery says, "Every time you think you know where he's coming from, the game gets twisted."
She says that an actor, she gets challenged by the rapid pace director Jordan Best has given to the piece and the "chilling" Highsmithian dialogue that Murray-Smith has provided.
"She's very precise with language ... It's incredibly specific and the sentence syntax is quite complicated."
Vickery and Best, along with Liz Bradley, are co-artistic directors of Pigeonhole Theatre. The Canberra theatre company was formed to provide more opportunities for female talent. Switzerland is its third production after Playhouse Creatures , which was invited to an international theatre festival in Monaco in 2017 and will go on tour later this year, and Summer of the Seventeenth Doll. This is the first of their shows to be included in the Canberra Theatre Centre's subscription season.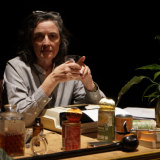 Vickery says, "We're tremendously excited and grateful to the Canberra Theatre Centre for this opportunity" and adds that Pigeonhole believes it's important that strong Canberra-based work be showcased in the theatre's season.
She's performed with several of the local theatre companies including Everyman Theatre and Free-Rain Theatre Company. Before coming to Canberra, where she works at the National Portrait Gallery, she acted with professional companies including Belvoir and the Sydney Theatre Company and taught at the National Institute of Dramatic Art.
Ruffy, 27, grew up in Canberra and acted in local theatre for over 10 years before entering the Western Australian Academy of Performing Arts' acting course. Since graduation, among Ruffy's professional engagements have been filming half a series' worth of episodes in the upcoming season of ABC TV's Rake, taking part in the creative development of a new musical, and working in the interactive Underground Cinema experiences. After the season of Switzerland ends he will go to Melbourne to act in a children's theatre production. In between acting jobs he works as a teacher in Sydney.
Vickery says, "This is our first time acting together - he's really talented."
She says she, Best and Bradley thought with his qualities, years of acting experience and professional training Ruffy would be perfect for the role of Ridgeway, which needed an actor capable of "gravity, range and control". They also wanted to give him the opportunity to "strut his stuff on the Canberra stage" for the first time in a professional capacity.
"Someone with less experience would be thrown in the deep end."