Public art biennial returns with a mermaid, video walks and more
Contour 556 is the water level of Lake Burley Griffin. It's also the name of Canberra's public art biennial, which will be produced for the second time in October using the foreshores of the lake as well as Aspen Island, through Bowen Park, Henry Rolland Park and the Kingston Arts Precinct.
The event, which has $80,000 in funding from the ACT government as well as contributions from private sponsors and donors, was launched by Arts Minister Gordon Ramsay on Wednesday, at Regatta Point Visitor Information Centre overlooking the lake.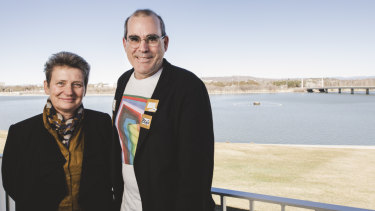 The curator and co-founder (with Karina Harris) of the biennial, Neil Harris, said the main aims of Contour 556 were "to create in the audience a great transformation and have them look at Canberra's landscape in a different way".
To that end, Contour 556 will feature 49 works by 60 artists: 44 from the Canberra region, 13 from other parts of Australia, two from New Zealand and one from Hong Kong.
The artworks and installations will respond in some way to Canberra's history and include steel, glass, ceramics, stone and found objects.
There will also be a series of performances encompassing dance, video, vocal music, spoken word and performance art.
Among the artists at the launch was Canberran Fiona Hooton, who will be in Contour 556 for the first time.
With her partner Catrina Vignando she began start-up Localjinni. They will conduct Lakeside Stories, a twilight video walk in which they will use LED screens projecting onto various surfaces to tell short stories focusing on the power of place to shape people's thoughts.
Another Canberran, performance artist and storyteller Miriam Pickard, will present The Primordial Mermaid, a site-specific mythopoetic storytelling piece that came out of a painful relationship break-up on a trip abroad last year.
"Coming back, I couldn't stop crying and I thought, 'What is this?'" she said.
She used the ancient Egyptian queen of the water Isis for inspiration and said the work was about "the regenerative qualities of lament" though instead of the Nile and the Mediterranean, she would relate it to the local "waters of life" such as the Molonglo River, which flows into the Murrumbidgee.
Contour 556: Canberra's Public Art Biennial 2018 will be on from October 5 to October 28, 2018. Website: contour556.com.au.
Ron Cerabona is an arts reporter for The Canberra Times.