Queen's Birthday Honours 2016: Australia's Mr Decimal given just reward for all his common cents
It's extraordinary that every time someone has reached into their pocket, purse or wallet for some cash in Australia over the past 50 years they have directly benefited from the work of Dr Neil Davey.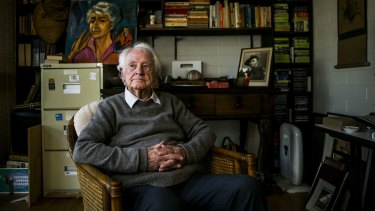 The retired Treasury official, dubbed Mr Decimal, was one of the architects of the decimal system which this year celebrated its 50th anniversary as the nation changed from pounds, shillings and pences to dollars and cents, on February 14, 1966.
Dr Davey, now 95 and living quietly in a home he had built in Torrens with his wife Maria, has been recognised in the Queen's Birthday Honours, appointed an Officer (AO) in the General Division of the Order of Australia.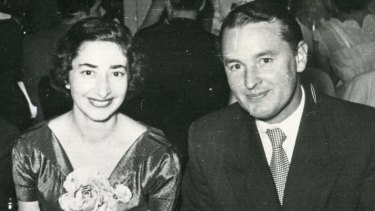 Sitting in his sun-drenched loungeroom with views out to the reserve leading to Mount Taylor, Dr Davey is cheerful and fit-looking but with a fading memory of all that he has achieved.
His reaction to the honour? "Well, surprised. In fact, astonished might be the other word for it," he said, smiling.
His wife of nearly 68 years, Maria, who is also still full of life at 93, is more forthright.
"I'm just really proud of him. He really deserves it," she said.
Among other Canberrans also celebrated were retired Prime Minister and Cabinet secretary Dr Ian Watt and Australian National University research professor Brian Anderson who each were appointed a Companion (AC) in the General Division of the Order of Australia, the highest honour.
They were two of 13 people appointed a Companion this year.
Another was media baron Kerry Packer's widow, Ros Packer, for her contribution to the community as a benefactor and patron, particularly in healthcare but also in the arts, including as director of the National Gallery of Australia Foundation and past council member of the gallery and past chair of its acquisitions committee.
In the Order of Australia, 565 General Division appointments and awards have been announced. A further 206 Australians were recognised through meritorious and military awards. A total of 379 males were honoured and 186 females.
Governor-General Sir Peter Cosgrove approved a list which recognised a range of contributions including professional endeavours, community work, Australia's Defence Force and emergency services.
"To all recipients, I offer my deepest congratulations, admiration and respect for your contribution to our nation," Sir Peter said.
"We are fortunate as a community to have so many outstanding people willing to dedicate themselves to the betterment of our nation and it is only fitting that they have today been recognised through the Australian Honours system."
Dr Davey's honour recognises his distinguished service to public administration, "particularly through seminal contributions to the development of Australia's decimal currency and to international banking, agriculture and bioscience organisations".
Quite a contribution for someone who left school at 14 to deliver messages by bike for a post office in Victoria.
Dr Davey's PhD thesis, The Decimal Coinage Controversy in the United Kingdom, written at the London School of Economics in the 1950s, was one of the triggers for the big change in the Australian monetary system.
His path to the higher reaches of Treasury and policymaking started from those very modest beginnings when he was promoted to a telegraphist with the post office in Melbourne. He also served in the Signal Corps during World War II when he met his future bride, Maria, at the Melbourne GPO where she, a local girl, was working in signals for the US Army.
A report from The Sydney Morning Herald in 1965 outlined that Dr Davey began his career in earnest when "in 1950, under the Commonwealth Reconstruction Training Scheme, he graduated Bachelor of Commerce at Melbourne University" and then joined Treasury in 1951, coming to Canberra from Melbourne.
"It was a bit of a wrench, all my association was with Victoria but after being here for a few months, I loved it," he said.
Dr Davey was secretary of the decimal currency committee before the switch, and chief executive officer of the Decimal Currency Board afterwards. The changeover to dollars and cents went smoothly and after all those decades remains a success story.
In his later career, Dr Davey was also minister of finance at the Australian High Commission in London, chairman of the Asian Development Fund Committee and special adviser to the Asian Development Bank in the Philippines. He and Maria have two sons, Steve and Nicholas, and two grandsons, Jesse and Joshua. And he is enjoying life, never feeling the need to be recognised or heralded.
"I'm very happy," Dr Davey said.
Council of the Order of Australia chairman, Air Chief Marshal Sir Angus Houston, said the awards were "public recognition of people who provide outstanding community service and whose achievements enhance national identity".
"By their actions they demonstrate the qualities of positive role models. The recipients are not only worthy of respect but encourage emulation," Sir Angus said.
Megan Doherty is a reporter for The Canberra Times