Queen's Birthday Honours 2016: Former secretary to four departments, Dr Ian Watt, appointed a companion of the Order of Australia
Ian Watt, who memorably served three different prime ministers across three tumultuous months and has been the head of four government departments, believes an essential requirement for good leadership is "a healthy dose of self-doubt" and "not to be caught up in your own self-importance".
The 65-year-old was appointed a companion of the Order of Australia (AC) in the Queen's Birthday Honours for eminent service to the community through public sector leadership and administration, capping off a 30-year career in the public service.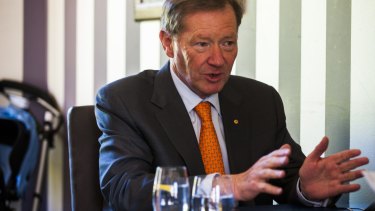 "It was a complete surprise. I felt enormously honoured, humbled and in a funny way delighted," he said.
"I was delighted because this is not an award that is given to me. This is an award that reflects the people I've worked with over 30 years in the public service, all the way from prime ministers down to the newest recruit.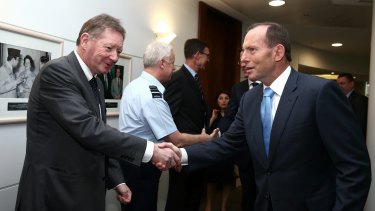 "And I was delighted for those people, not for me."
Dr Watt has been secretary of the Department of Communication, Information Technology and the Arts; Department of Finance and Administration, Department of Defence and Department of Prime Minister and Cabinet, from which he retired in November, 2014.
He said a good leader had vision, listened and enjoyed "a healthy dose of self-doubt".
"Because that leads you to question yourself from time to time and I think that's essential for a good leader," he said.
"To see if you're on the right track and not to be caught up in your own self-importance. And to know that all leaders are fallible."
Over three tumultuous months in mid-to-late 2013, Dr Watt served three prime ministers – Kevin Rudd, Julian Gillard and Tony Abbott.
He said he "parted on good terms" with Mr Abbott and enjoyed working with each minister and prime minister who came his way.
"They're unique, they're individual and I have always found they are people who have a lot to offer Australia," he said.
"They all get frank and fearless advice. Are they all open to it? In varying degrees. But I've never found that a prime minister said, 'Stop, I don't want to listen to hear what you've got to say'. So it was important they listened."
There had been many memorable issues over his career.
"The second half of the '80s as a young public servant working in Treasury during a period of major economic reform [was one]," he said.
"I think the global economic crisis was an exciting time to be involved in senior policy making in terms of what was done and achieved. Working with three prime ministers in less than three months was exciting. Probably I'd say one of the most exciting things I worked in was the sale of the third tranche of Telstra which was sold under some difficult circumstances."
Dr Watt said he missed the people and the issues but did not miss his job. He was now sitting on several boards including as chair of BAE Systems Australia and did pro bono work for groups including the Grattan Institute. Sunday morning walks around Lake Burley Griffin were now his great pleasure. He urged young people to consider a career in the public service.
"I would say the public service is, I think, still one of the most exciting places you can go to work in," he said.
"You will learn an enormous amount, you will do very interesting work. You'll have lots of different opportunities and I still think it is a great place to work.
"If I had my time over, I would do exactly what I've done in the past. It's a wonderful organisation full of great people who do great work. It's not perfect, but then again no organisation is."
Megan Doherty is a reporter for The Canberra Times