"I don't remember anything from that night, I woke up the next day with a shiner".
This is what Canberra Raiders star Jack Wighton told police when questioned about his unprovoked attacks on five men in Civic on February 3, court documents said.
The fullback - who has been stood down from playing indefinitely - last month pleaded guilty in the ACT Magistrates Court to five charges of assault and one count of public urination over the incident.
The Raiders board met on Friday to discuss Wighton's immediate playing future and they have submitted a suspension to the NRL integrity unit that would see him return to the field this season.
But the NRL were yet to rubber stamp the penalty and they won't make a final decision on how long he'll be suspended for until next week.
Wighton's defence team told a Canberra court on Friday it would apply to have CCTV footage of the February incident and photographs of the victims' injuries suppressed.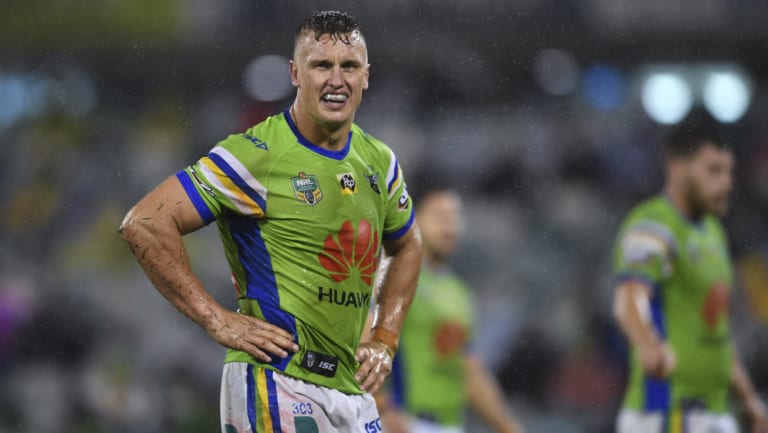 Defence barrister, Jason Moffett, argued Wighton, as a well known public figure, would be subject to significant extra-curial punishment if the footage were to be made public.
The application is set to be heard in October.
The court also heard Wighton  had been assessed as suitable to appear before the Galambany Court for sentence.
The Galambany Court is a specialised court of Aboriginal offenders, within the ACT Magistrates Court.
The sentence has been set for November.
Police facts, tendered in court on Friday, said the footage showed Wighton had just left a Civic nightclub, about 2.45am on February 3, when he headbutted and punched a man leaning on a shop window.
About 2.55am, a man approaches and shakes Wighton's hand, only for the NRL star to shove and then punch the victim in the face.
The documents said, about 10 minutes later, Wighton is seen to urinate on the road before attacking three men, headbutting and punching them in the head and face.
One victim suffered a laceration to the inside of his mouth, while another had a cut on his head.
Raiders chairman Allan Hawke has publicly pledged his support for the embattled fullback.
It is understood the NRL integrity commission will then review the penalty, and could intervene to impose further sanctions if it considered the Raiders' decision to be too lenient.
Michael Inman is a courts reporter for The Canberra Times
David Polkinghorne covers the Canberra Raiders, local rugby league, Canberra Cavalry, racing and cycling, along with every other sport, for The Canberra Times.