Refugee's mental health untreated in detention before tasered outside parliament, court hears
A refugee with severe mental health issues received an "appalling" lack of treatment in immigration detention before being tasered outside Parliament House, where he'd gone to tell politicians he was a prophet.
Alidad Haqjoe, 27, has now been returned to Villawood immigration detention centre after being dragged through six months of protracted and confused criminal proceedings, only to have the case against him discharged due to his mental health.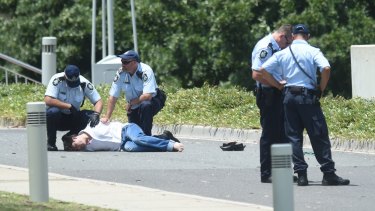 His return to immigration detention has prompted ACT Human Rights Commissioner Dr Helen Watchirs, who previously acted as Haqjoe's guardian, to call for guarantees about his treatment.
"My biggest concern is that he continue to receive treatment and I would be seeking an assurance from the federal government on that," Dr Watchirs said.
"It's tested the legal system, it's been the most testing case [that I've been involved with]."
Haqjoe went to Parliament House in January, to inform representatives of his ability to guide others into the afterlife.
Protective services officers became concerned about Haqjoe, who appeared confused, was mumbling and stumbling around.
They told Haqjoe they were going to search him, and he produced a battery lead and a knife, before repeatedly dropping the weapon and picking it up, but refusing to move away.
Specialist police rushed to the scene, and Haqjoe yelled he was the "God police", before being tasered and handcuffed.
His actions at the high-profile target of Parliament House sparked national attention.
But it's his treatment before that event, and since, that has privately alarmed many who have kept watching the case.
Haqjoe came to Australia as a refugee from Afghanistan, where his Hazara ethnicity are often persecuted.
He spent time in Villawood in Sydney and other centres before being released into the community.
Forensic psychiatrist John Kasinathan, in a report tendered to ACT courts, described the lack of treatment Haqjoe received for his mental health while in Villawood as "appalling".
Staff there have defended their actions, providing a list of the treatments they provided, and saying Haqjoe had often refused medication.
While in the ACT, Haqjoe has been under an involuntary psychiatric treatment order, which sees him injected with medication.
That has seen a marked improvement in his mental health.
Meanwhile, his case has languished before the ACT courts for six months.
He has been sent back and forth between courts, as judges determined whether he was fit to plead to the two charges of possessing a knife and obstructing police.
The ACT Magistrates Court sent him to the higher Supreme Court to make a determination on his fitness, only for him to be returned to the Magistrates Court, where he was facing a possible committal back to the Supreme Court to finalise his case.
That bizarre requirement has delayed proceedings and was described by Chief Justice Helen Murrell recently as "very unsatisfactory".
Haqjoe, after receiving treatment, was found fit to plead and sent back to the ACT Magistrates Court this week, where Commonwealth prosecutors said they would not be opposed to the case being discontinued.
That sparked concerns about Haqjoe's fate.
If released, he would be immediately taken back to Villawood, raising fears about his treatment there.
The Canberra Hospital's mental health unit, where Haqjoe was being held, was seeking to discharge him to free up a bed for someone else requiring care.
That unit is not designed to keep alleged offenders long-term, but the only other option was prison, again exposing the ACT's lack of a proper secure mental health unit, which is currently being constructed.
Mental Health ACT wrote to Villawood and sought assurances about his treatment, and said adequate services were available in Sydney.
That prompted Special Magistrate Ken Cush to discontinue the charges against Haqjoe on Tuesday.
He ordered that notes about Haqjoe's treatment and medication be shared with Villawood.
Immigration officials were waiting for Haqjoe and took him into custody following Mr Cush's decision.
Christopher Knaus is a reporter for The Canberra Times.