'Remove my name' Hodge tells Hall of Fame
Confessed drug cheat Stephen Hodge has asked to be removed from the ACTSport Hall of Fame.
Former Tour de France rider Hodge shocked the Canberra cycling community last week by admitting he had taken performance enhancing drugs during his career.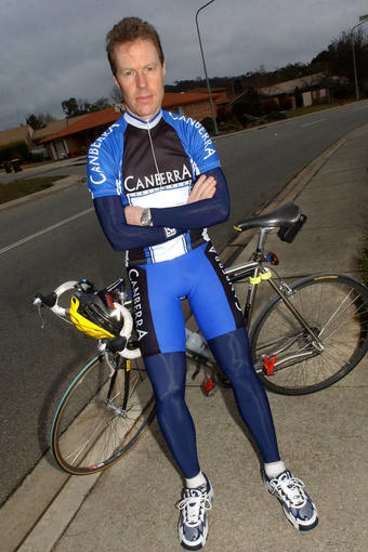 Less than 24 hours after the UCI stripped Lance Armstrong of his seven Tour de France titles and banned him from the sport for life, Hodge wants to be taken out of the Hall of Fame.
Hodge wrote a letter to the ACT Government, which has been forwarded to ACTSport, volunteering to be removed because he didn't think it was appropriate he remain alongside the capital's sporting elite.
He was added to the ACTSport Hall of Fame in 2002.
Hodge has been one of the capital's highest-profile cyclists.
He was a member of the Hall of Fame and the criterium circuit at Mt Stromlo was named in his honour.
Hodge asked the ACT Government to have his name removed from the Hall of Fame.
However, there has been no decision made on whether the criterium circuit at Mt Stromlo will continue to bear his name.
With the results of the ACT election yet to be decided, the government will not change the name of the track.
The government cannot remove Hodge from the Hall of Fame.
The Hall of Fame is run by ACTSport and it is understood the organisation's bosses spoke on the weekend about putting a process in place to consider Hodge's position.
Hodge resigned as Cycling Australia president on Friday after opening up about his drug use.
He used EPO and cortisone from 1989 for six seasons.
Hodge competed at the Atlanta Olympic Games in 1996, raced in 10 world championships, six Tours de France and got to a world ranking of 40.
He has mentored a generation of Canberra cyclists, but his imaged was tainted when he revealed he was part of cycling's drug culture.
Stephen Hodge's letter to the ACT Sports Hall of Fame
Following my resignation from my position as director of the board of Cycling Australia on Friday the 19th of October, my public declaration are the reasons I am writing to you in the absence of a current serving Minister For Sport to propose that my name be removed from the ACT Sport Hall of Fame.
I believe that most ACT residents would agree with me that given my admission of use of performance enhancing substances, it is inappropriate to be recognised in this way.
While the work to establish the Stromlo Forest Park criterium cycling circuit was post my competitive cycling career, it is also based on my reputation as a pro cyclist and I would support any action the ACT Government deems appropriate in this matter.
Kind regards,
Stephen Hodge
Chris Dutton is the sports editor at The Canberra Times.