Residents invited to search for vulnerable pink-tailed worm-lizards at Googong
A walk in the bush searching for rare fauna is all part of a day's work for Canberra ecologist Robert Speirs.
On Tuesday, Mr Speirs, who is principle ecologist of Capital Ecology, gave residents and reptile enthusiasts the opportunity to see what his work entails.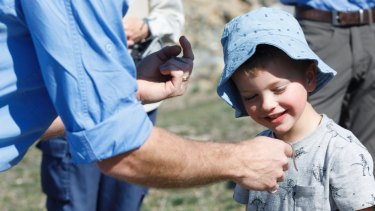 Mr Speirs and his team look after the ecological assessment in the Googong area. They are monitoring the pink-tailed worm-lizard, also know as the aprasia parapulchella which is classified as a vulnerable species.
He said the day was to push for greater awareness of the species and to educate locals about them.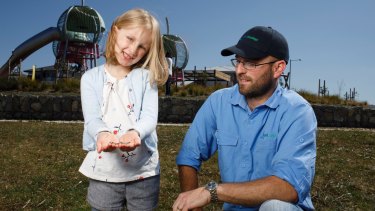 "The key thing about conservation is getting people on board because people in the community tend to value things they are familiar with and things they understand," Mr Speirs said.
"The meet and greet is very important, especially for young kids - it gets them involved, understand why conservation is set up, what it's purpose is and why it's important to see that these measures are put in place so that we have these threatened species in the future."
Found exclusively in southeast Australia, the pink-tailed worm-lizard grows up to 14 centimetres long and looks like a small snake or worm, but is more closely related to a gecko.
Following the discovery of lizard at Googong in 2009, a 54-hectare fenced pink-tailed Worm Lizard Conservation Area was established to conserve one of the species' largest known populations.
"They're a vulnerable species because the areas they intend to inhabit happens to coincide with areas that are often used for agricultural purposes and more recently with development as well."
Mr Speirs said there was always a risks educating the public about how and where to find the species, but said the community support outweighed the communities support for conservation.
"It's hard to find the support in the community for something that they don't know much about," he said.
"It's positive to see, young kids and that really keen to understand about these lizards.
"It's positive for future conservation."
Students from the Anglican School Googong and residents had the chance to get close to the lizard, under supervision from the ecologists, as part of Googong's ongoing community education program.
In the next 15 years, Googong will have 6,200 homes built to cater for a population of about 18,000 people.
Han Nguyen reports on property for The Canberra Times. She joined the Times in 2017 after working as a breaking news reporter at The Sydney Morning Herald.