Retrospective exhibition of colonial artist S. T. Gill at National Library of Australia
S.T. Gill, who was one of Australia's most significant colonial artists, collapsed and died on the steps of the GPO in Melbourne on October 27, 1880. He had no family and was buried in a pauper's grave at public expense.
Ever since I heard this story as a child, I have been intrigued by the enigma of Gill and the more I looked at his work, the more I admired it and was puzzled as to why it has remained so neglected. Now, 135 years after his death, we have assembled the first ever comprehensive retrospective exhibition of his art, containing some 220 works, and accompanied by a major monograph.
The questions that I sought to tackle in the exhibition and book were essentially threefold. Who was S.T. Gill? What did he achieve, and why was he so neglected? Samuel Thomas Gill was born in 1818 in Perriton​, a small village in Somerset, England, where his father was the Baptist minister. He grew up in the Devon-Cornwall areas, where his parents ran separate schools for young gentlemen and young ladies. His father entered business and dissented to join the Plymouth Brethren. Gill initially studied in the home school, attended William Seabrook's Academy, worked in an art framing and lithographic print shop in Devonport and then painted backgrounds for a London-based silhouette studio. The earliest work in the exhibition dates from his teenage years in England. This is a profusely illustrated sketchbook with watercolour and pen and ink drawings. Here, there is already an expression of an early love of dogs, hunting and an outdoors life, plus wit and a love of social narrative. Following the death of two of his siblings in an outbreak of smallpox, Gill migrated with his family to the newly established colony of South Australia, arriving just before Christmas in 1839.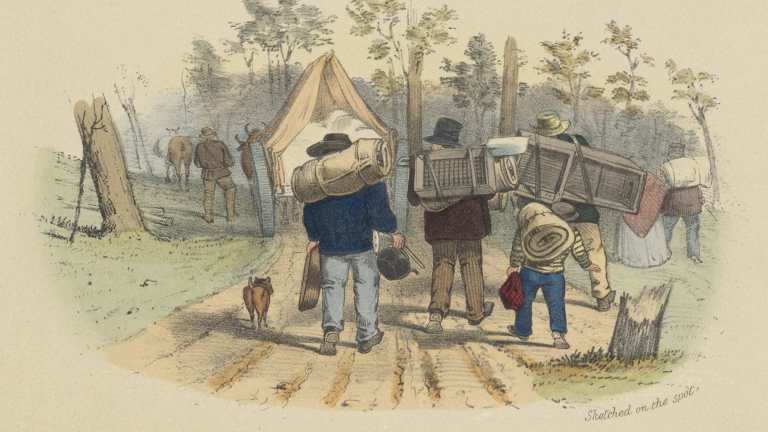 The 21-year-old Gill immediately launched himself as an artist, advertising his services as a portraitist, animal painter and landscape artist. Early during his time in Adelaide, he executed the Labours of the Months and the Four Seasons watercolours, now treasures in the collection of the National Library, where he translated an English pictorial tradition into terms of the South Australian agrarian calendar. November, for example, was the month for shearing – possibly the earliest shearing painting in Australian art. Here, three men are shearing sheep with old-fashioned English hand shears on the earthen floor of a thatched shed. A bale, suspended from the rafters, is being packed by hand by two other workers, while the full bales are loaded onto the bullock-drawn dray. In the background, the golden ripened grain is being harvested beneath a hot, bleached sky, while the farm dogs lazily stretch out in the dust, observing all of this activity. One of these dogs is a young Newfoundland pup that belonged to Gill and made appearances in some of his other South Australian works.
Gill, in 1846, embarked on a journey of exploration led by the grazier John Horrocks, which ended tragically when Horrocks' gun discharged accidentally on a hunting trip, wounding the explorer. He later died when the wound became gangrenous. Gill recorded in his remarkable, luminous watercolours the interior of South Australia, which a local newspaper described "as faithful transcripts of nature, in some instances of a territory untrodden by white men, [which] reflects much credit on the talented artist".
The economy of South Australia dipped badly once gold had been discovered in neighbouring Victoria, and the colony was severely depopulated. Gill joined the rush and left the colony for the Victorian goldfields. There is no evidence that he set out in search of gold, but by mid-1852 he had begun sketching on the goldfields of Mount Alexander, Bendigo and Ballarat. Between August and October 1852 his 48 lithographs, Sketches of the Victoria Diggings and Diggers As They Are by STG were issued in two sets and almost overnight Gill became the highest profile artist of his day. Diggers on Way to Bendigo has become something of an iconic image for the Australian gold rushes; in the image three diggers followed by a child and accompanied by a dog are shown from behind, walking after a dray pulled by oxen. With this image Gill opens his narrative on the life of the diggers.
Unlike many of his fellow artists, Gill set out to give the gold rushes a human face. He translated the whole enterprise into a number of human situations, which rang true to the experience of those who were on the goldfields in the early 1850s. Although maintaining the accuracy of detail – the topographical features of the setting, the dress and tools employed by the diggers – Gill's main focus was on the ongoing human drama, or what we may term the "psychology of the place". Gill's little lithographs recorded the unfolding environmental catastrophe on the goldfields, where the trees had largely been felled, streams clogged and the human anthill had eroded the surface of the ground.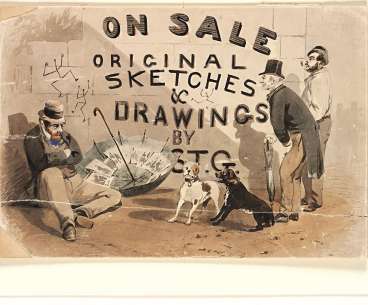 Whereas in his early years in South Australia Gill may have emerged as a propagandist for the British cause and sung a hymn of praise for the new colony, by the time he settled into Victoria, his ideas had matured. He became increasingly critical of some attitudes of the mother country, especially towards the Indigenous peoples of Australia and its flora and fauna, and he frequently championed a new breed of people – the Aussie digger – who was tough, resourceful and resilient. He also, to some extent, became the conscience of Australian colonial art, and on many occasions depicted the "dark side" of life on the goldfields.
While hysteria was being whipped up by politicians and in the media about boat people from Asia, "coolies" or "celestials" as they were called, who were said to be invading Australia to steal our jobs and our gold, Gill showed hardworking Chinese living in harmony with the rest of the miners. In one remarkable watercolour painting titled Might Versus Right, he leaves us in no doubt as to where his sympathies lie, as a group of Anglo-Irish thugs are shown attacking a number of terrified, but peaceful Chinese miners.
Although the presence of women on the goldfields was widely noted in written accounts, as well as in some journals kept by the women themselves, they are almost invisible in the art of the goldfields. Gill was the exception. In his lithograph Zealous Gold Diggers, Bendigo, dated on the stone July 1, 1852, a woman nurses her baby in one hand, while she rocks the gold-extracting cradle with the other. Her infant daughter handles a shovel, loading the ore-bearing soil into the cradle from the wheelbarrow, while her husband pours into the cradle the buckets of water with an "Aquarius", the long-handled dipper in which the "bucket ladle" is attached to a pole.
Our knowledge of Gill's private life is incomplete: he appears to have had a wife, but no children. He left Victoria abruptly with another woman, Elizabeth, with whom he fled to Sydney, arriving on May 20, 1856. Repeating the work pattern he developed in South Australia and Victoria, Gill launched himself in making scenes in and around Sydney and before long The Sydney Morning Herald was to declare that "Mr S. T. Gill has made for himself a reputation in the Australian colonies as a water-colour artist such as is seldom obtained by an individual in any country."
It was in the 1860s that Gill's style and ideology became firmly cemented as he adopted the stance of a democratic socialist, one who was critical of racism, who defended the rights of Australia's Indigenous peoples, protested at social inequality and was critical of the land use and environmental destruction caused by the European settlers. Gill in his art developed a cast of male and female characters that championed Australian, rather than English, values. These characters included the stockman, the "bushie", the city dweller, the "pure merino" and the street urchin. It was in his art that the Aussie digger made his first clear and unambiguous appearance as the person who struggles with the elements, the droughts and floods, and discovers a unique beauty in the Australian landscape, enjoying a sense of oneness with the country.
By 1864 Gill was back in Melbourne and by early the following year he published The Australian Sketchbook with a frontispiece and 24 plates executed in the new technique of chromolithography. With 14 of the 24 images giving prominence to the Aboriginal presence in rural Australia, Gill appears eager to stress that Australia is a country that has a "black history" and was far from the "terra nullius'' which once appeared in the English imagination. On the title page, Gill, now in his mid-40s, shows himself as a lonely traveller in rural Australia, who has been momentarily distracted by a couple of Aboriginal people, possibly his friends, who peer from behind a large rock and try to warn him about something. Gill carries a folder with his drawings tucked under his arm, his pipe in one hand and his boots in the other, while cooling his feet in a stream. He seems oblivious to the fact that a black snake is about to strike and bite him on the foot and, possibly adding to his predicament, the melodic magpie is about to unload on him from above. The artist, far from laughing at the people who surround him, presents himself as the object of ridicule.
By the 1870s, the traditional audience for S.T. Gill's watercolours and prints had largely evaporated. In Melbourne, for the final 16 years of his life, Gill found an art world that was becoming increasingly institutionalised in its art structures, with art schools, mechanics' institutes and public art galleries, and which was accompanied by an increasingly urbanised art audience. Technically, late in life, he was painting some of his most accomplished pieces, such as his iconic Doing the Block, Great Collins Street, 1880, completed three months before his death, but the gentrified audience of the day was no longer interested in witty commentaries on social inequalities, instead seeking comfort in pretty landscape paintings in oils.
Why did Gill die in poverty? The commonly held theory that Gill died a hopeless alcoholic, incapable of holding a brush, cannot be substantiated. Although some of his contemporaries observed that, on occasion, Gill drank to excess, as an artist he got better as he grew older and some of his finest work was executed in the final year of his life. A post-mortem examination revealed that he had died of an aortic aneurysm and was on medication for high blood pressure. The family had a history of heart problems, with Gill's father dying at 60, his mother at 54 and his one surviving brother at 63, so Gill's death at 62 was in keeping with the general family pattern of life expectancy.
Gill lived exclusively from his art and was the conscience of 19th century Australian society. Like his great French contemporary, Honore Daumier, he found difficulty in making ends meet and, like Daumier late in life, he was supported by fellow artists. Daumier's retrospective exhibition was held a year before the artist's death, in 1878: Gill had to wait 135 years before Australia would celebrate its first great painter of modern life.
Australian Sketchbook: Colonial Life and the Art of S.T. Gill is showing at the National Library of Australia from June 29 to October 16. Admission is free.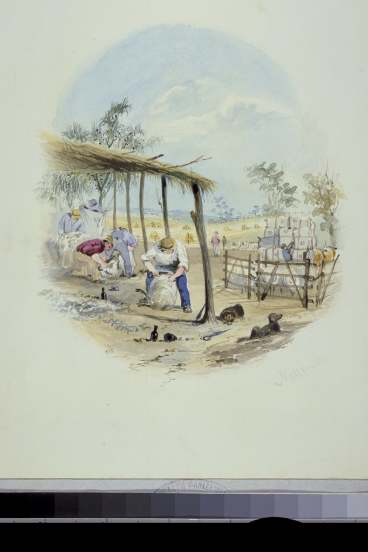 Sasha Grishin is the curator of the S.T. Gill exhibition and author of S.T. Gill and His Audiences, published by the National Library of Australia. An earlier version of this exhibition was shown at the State Library of Victoria in 2015.