Review: Hamlet at the Canberra Theatre is dynamic and thrilling
Hamlet. By William Shakespeare. Directed by Damien Ryan. Bell Shakespeare Company. The Playhouse. Canberra Theatre Centre. Until October 24. Bookings: canberratheatrecentre.com.au.
The challenge confronting any director and his cast who would attempt to scale the Herculean heights of Shakespeare's Hamlet is to freshly mint the 400-year old tragedy for the audience of the day.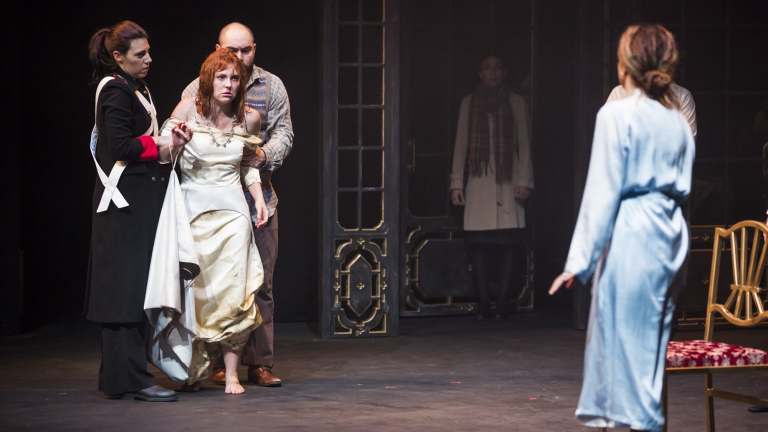 Director Damien Ryan does this magnificently in Bell Shakespeare's latest production of Hamlet. With touches of brilliant inventiveness, illuminating stage business and superb casting, Ryan holds his audience riveted at the gripping tale of a young Scandinavian prince, determined to seek vengeance for the murder of his father by his uncle, who within a month marries his widowed mother.
Set against Alicia Clement's metal and glass ornamental representation of the palace interior, Ryan focuses on the driving narrative of Hamlet's quest, editing the text to illuminate the action, stripping back superfluity to allow his actors to pursue unencumbered their character's journey, assisted by Matt Cox's atmospheric lighting design and Steve Francis' composition and sound design.
They serve to heighten the intrigue of a 20th-century state, in which Polonius (convincingly played by Philip Dodd) assumes the role akin to a Head of Secret Service, build the tension in the imaginatively and refreshingly staged play "to catch the conscience of the king", and evoke spontaneous response from an audience utterly embroiled in the drama.
Hamlet, whatever its psychoanalytical or Freudian implications, is essentially a masterful revenge tragedy told by storytellers upon the stage. It is the story of a state, besieged externally by the forces of Norway's Fortinbras (Catherine Terracini​) and within by familial dysfunction, brought about by Old Hamlet's murder by Claudius (Sean O'Shea​) and his marriage to Gertrude (Doris Younane​).
It is universal and deeply personal. Although a fiction, based on various sources, it is a true tragedy experienced by real people with astonishing consequences, born of human reason and emotion. At the heart of this complex and fateful drama is Hamlet, a prince without a father, tormented, confused, reckless, cunning and intelligent, a man who would have been "most royal" had he lived.
Understudy Scott Sheridan, stepping into the role after Josh McConville​ suffered an injury, is all this and more. On opening night his star shone with incandescent brilliance, lending conviction to every nuance, every agony, every irony and every action. This is a Hamlet for our time.
Ryan's dazzling inventiveness lends familiarity a new gloss. The use of the Danish language by Fortinbras, the spoken Italian in the Mummer's play, the brilliant interactive instruction by Hamlet to the Players and the joshing between Hamlet and Rosencrantz (Robin Goldsworthy) and Guildenstern (Michael Wahr) all reveal a freshness and truth to the text and the action.
Ryan's actors rise magnificently to the challenge. Matilda Ridgway's Ophelia shines with originality. She is the sheltered daughter, protected by Polonius and her brother, Laertes (Wahr), and driven to madness by confusion, rejection and the lack of resources to cope with the disintegration of a secure life. Ridgway's Ophelia is a performance of astounding range and overwhelming poignancy.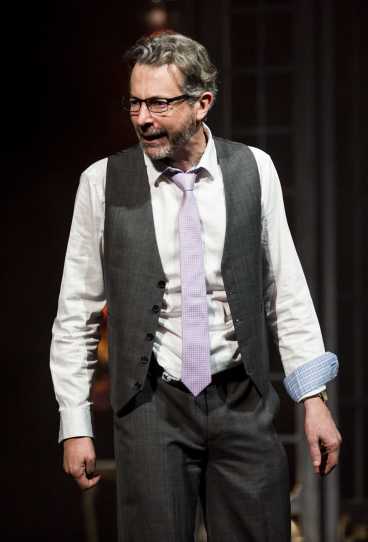 The final moving valedictory by the loyal Horatio (Ivan Donato), surrounded by the fatal consequence of cruel ambition and subsequent revenge offers a prophetic warning to "a yet unknowing world".
Dynamic and thrilling, Ryan's illuminating and absorbing production of Hamlet for Bell Shakespeare is not to be missed.