Rona Green: While the going is good at Beaver Galleries
Rona Green: While the going is good. Beaver Galleries, 81 Denison Street, Deakin. Until March 20.
Reviewer: Sasha Grishin.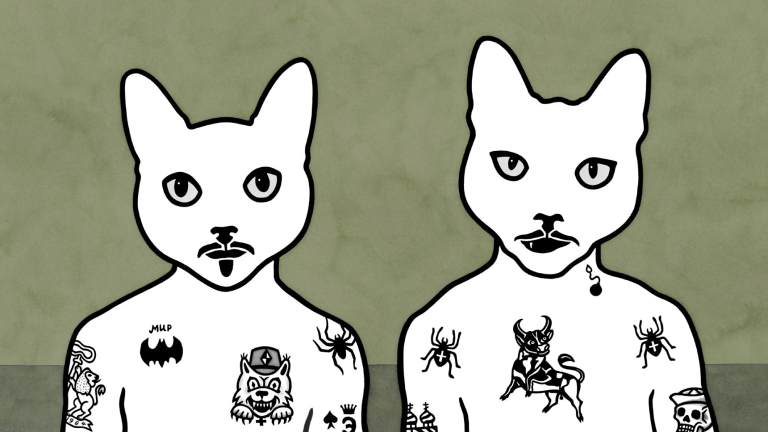 Rona Green tells the story that when she was two and her sister Jillian was born, she experienced the not uncommon emotional insecurity of the first born when facing a rival, so her parents as compensation bought her a cat. The cat was called Figaro and she was a lovable black, grey and white tabby, who went on to live to a grand old age. The artist's emotional bond with animals has remained constant throughout her life.
Animals are an integral part of Rona Green's imagery, however there are no literal transcriptions of cats and dogs in her art. There is a complete lack of overt sentimentality: they may be deceptively cute images, but they cry out defiantly "toys aren't us". Her animals are strange hybrid beings, where her 'teddies with attitude' carry the imprint of street art and popular culture. A significant source for the development of her iconography was the discovery of Danzig Baldaev's profusely illustrated Russian Criminal Tattoo Encyclopaedia published in three volumes between 2003 and 2008. Baldaev worked in the Soviet prison system for about 50 years and collected thousands of drawings of prisoners' tattoos that could be read as visual records of the inmate's criminal history. The idea that tattoos could serve as a patchwork of coded information fascinated Green and in some of her prints, including Leonty and Borislav, the two slightly menacing felines carry on their skins a record of their past criminal histories.
The animals that inhabit her oeuvre form a strange menagerie of dogs, cats, rabbits and birds, generally posed frontally, or in strict profile as in prison mug shots, and they confront the beholder with a direct gaze. In her art, it is not so much a question of anthropomorphic images of domestic animals, but rather these animals in her prints become allegorical creations through which the artist comments on our society. Her beasties frequently bear tattoos, wear specific costumes and carry the scars of their rites of passage. She has codified an artistic language which draws on cartoons, tattoos, stencils and street graffiti, but which has become exclusively and distinctly her own. You can spot a Rona Green image at 20 paces.
She is primarily a printmaker, frequently using a linocut relief print in a small edition of fewer than 30 copies with each uniquely hand coloured with watercolours. In this exhibition there are also a few pen, pencil and ink drawings, some with watercolour, Scotch and Soda gone rogue and Gordon is a great pretender, among the finest. Her technique is accomplished, but uncomplicated as she strives to maximise the impact of her images through simplicity of means.
Rona Green's personalised bestiary contains images that have been deliberately abstracted with strong linear articulation that betrays a fondness for pattern making. At the same time, when we look at Mr Correct (Hank) or Lazer, we are aware that we are seeing likenesses that appear as distantly familiar from our daily experience. I could swear that I had seen Lazer in my local shopping centre only the other day, looking slightly sorry for himself and down on his luck, his faced lined with experience, but also with a self-awareness that this old dog still has a few tricks up his sleeve. I think it is the brilliance of Green's characterisations that give this exhibition its vitality and broad based appeal. They are very memorable images that are immediately accessible to most people and not purely an art audience.
Although there is flippancy, humour and whimsicality in the work, her prints are incredibly seductive images, funky in their aesthetic and slightly menacing and confronting in their presence. Yet for all of their light-heartedness, they do hint at a secondary role as social commentary with a generous dose of satire and with the touch of the absurd. I suspect that each of us will bring to Rona Green's images our own emotional and cultural baggage.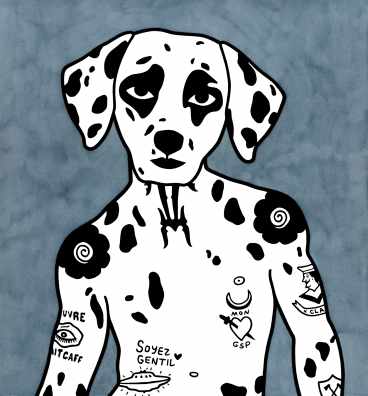 This is a terrific exhibition by a young artist who in the two decades since she started to exhibit her work has attained something of a national notoriety as well as attracting serious notice from some of the major Australian public art gallery collections.