Salut! Baroque presents Avison's Essay at Albert Hall with Colin Milner
Avison's Essay. Salut! Baroque. Albert Hall, Friday, May 25, 7.30pm. $43/$38. Adult: $43 / Concession: $38. trybooking.com/SSPE. Concert Enquiries: 6230 9262. baroque.com.au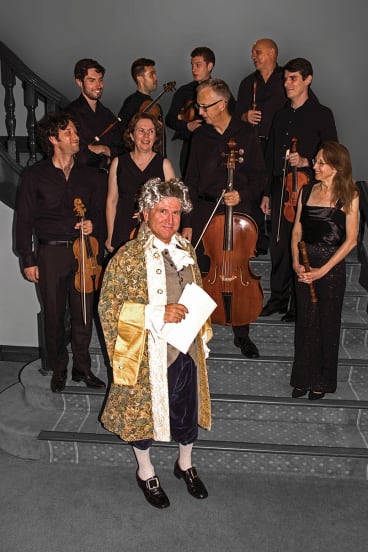 Musical criticism of the scathing kind is nothing new. Salut! Baroque co-artistic director Sally Melhuish says British composer Charles Avison's An Essay on Musical Expression (1752) is credited as being the first music criticism published in English. In it, the Newcastle-based composer controversially divided categorised composers into three "classes" and his often withering assessments of their talents caused such a stir he became alienated from the London music scene.
Melhuish says she decided to use the essay as the basis for Salut! Baroque's next concert, performing works by some of the composers praised and panned by Avison and including readings from his work by Canberra actor Colin Milner.
In the first and lowest class, Avison places Vivaldi, Tessarini, Alberti and Locatelli, " whose compositions, being equally defective in various harmony, and true invention, are only a fit amusement for children; nor indeed for these, if ever they are intended to be led to a just taste in Music".
Avison goes on to write, "Under the second class, and rising above these last mentioned in dignity,…may be ranked several of our modern composers for the Opera. Such are Hasse, Porpora, Terradellas and Lampugniani. Though I must take the liberty to say, that besides their too little regard to the principles of true harmony, they are often defective in one sense, … I mean, by an endless repetition of their subject, by wearing it to rags, and tiring the hearer's patience."
If you're beginning to wonder which composers Avison does like, he also writes: "Of the third and highest class of composers…are Vinci, Bononcini, Astorgo and Pergolesi.The frequent Delicacy of whose airs is so striking, that we almost forget the defect of harmony, under which they often labour. Their faults are lost amidst their excellencies; and the critic of taste is almost tempted to blame his own severity, in censuring compositions, in which he finds charms so powerful and commanding."
The program will also include music by Handel ("Our illustrious Handel, to suit public taste, sometimes descends to the lowest"), the "graceful and spirited" Jean-Philippe Rameau and the "sublime" Antonio Caldara,
"I was interested to see that some of the composers Avison praised in his list of "highest class of composers" are relatively unknown today," Melhuish says, though she adds, "We will leave it to the audience to make up their own minds about the worth of the composers on our program!"
Antonio Vivaldi, so denigrated by Avison, is, along with Handel, now the best-remembered and most played of all the baroque composers discussed in the essay. The ensemble will perform Vivaldi's Concerto in G minor RV 577 and the aria Sonno, se pur sei sonno, sung by French soprano Myriam Arbouz.
Also on the program are Tessarini's Overture in D Major from Op. 4 La Stravaganza, Pergolesi's Adagio from Concerto in G minor, Bononcini's Sinfonia (from oratorio Il Giosuè,1688), Handel's Aria No, più soffrir non voglio and Rameau's aria Formons les plus brillans concerts, to name just a few.
There's also a piece by Avison himself, the Concerto Grosso No. 3 in D minor, so the audience can hear for themselves how the critic's own music compares with that of the composers he is slamming or saluting.
Milner has been an actor/narrator in three previous concerts with Salut! Baroque among many other vocal performances, concerts, musicals and plays. He says that in this concert, :"I really love the challenge of marrying my two passions of performing and history."
Coming in, he had only a vague idea of who Avison was but has been finding it "an interesting journey" to discover more about the man and to consider the development of music and music criticism in Britain reflected in his essay.
"It reflected a growing sophistication in English music and the development of professional critics - newspapers and journals in the 18th century published music criticism," he says.
"I find it interesting that we frequently think there was no English composition between Purcell and the late 19th century but there was quite a lot going on - a lot of foreigners were attracted to London, Handel preeminently of course, but they were also affected by being in London."
Milner will be dressed in 18th-century costume and is working on bringing a suggestion of a "Geordie" accent to give a Newcastle flavour to his evocation of Avison.
"If I spoke with it as strongly as Avison probably did I wouldn't be understood."
Melhuish says Milner's readings will include not only excerpts from Avison's essay but an anonymously published response to it, later discovered to be by another composer, William Hayes ("he also had strong opinions", Melhuish says) and a final published retort by Avison.
She says, "Avison wasn't happy about being contradicted. His reply began, 'To reply to the man himself is very much beneath me...' - but he did."
Ron Cerabona is an arts reporter for The Canberra Times.
Morning & Afternoon Newsletter
Delivered Mon–Fri.