Science teachers come to Canberra for education summer camp
Summer camp isn't just for students, as a group of science, maths and technology teachers discovered on a trip to Canberra this week.
The educators came from across the country to discuss their passion for science and brainstorm ways to pass their enthusiasm on to students at the National Science Teachers' Summer School.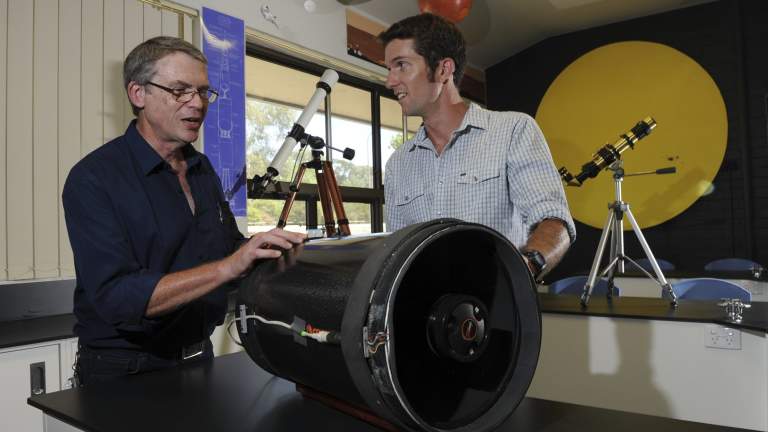 Run in conjunction with the National Youth Science Forum, the week-long program offered interested teachers the opportunity to meet leading researchers from the CSIRO, Australian National University and the University of Canberra.
They also toured the labs of Melrose High School science teacher Geoff McNamara, who established the school's ACE Science program.
Mr McNamara, who brings practising scientists and engineers to his classroom to speak with students, said he received encouraging feedback from the teachers involved in the summer camp.
He said it was important to encourage all students to take an interest in science, even if they are not planning on pursuing STEM – science, technology, engineering and mathematics – careers.
"There's no other branch of human thinking that's going to influence their lives, whether it's in information technology or physics; everything from the fact they've got clean water and good sewerage to communications and technology they use every day.
"These kids need to learn science and so you've got an enormous responsibility as a science teacher to give them the very best education you can."
Maths teacher Clint Wilson said the lab tour inspired him to do more for his students when term one starts at Kingscliff High School on the NSW far north coast.
The program's connection to the National Youth Science Forum encouraged Mr Wilson to suggest it to his students.
"That hasn't been very actively participated in at my school and that's something I'd really like to get going," he said.
Lake Tuggeranong College teacher Insia​ Mustansir was able to network with scientists and could be able to take her students on excursions to their workplaces.
"We visited pharmacy labs and I was able to speak to the people who worked there, so they're happy for my cosmetic science classes to visit, make some creams and have a hands-on tour."
The tour wrapped up on Friday, with the National Youth Science Forum continuing until January 30.
Stephen Jeffery is a producer at The Canberra Times