Senior bureaucrat Jeff House resigns amid turmoil in chief minister's directorate
The top echelons of the ACT chief minister's directorate are in turmoil, as Jeff House, a deputy director-general and one-time Labor senior staffer, resigned on Monday.
Mr House's resignation follows the news last week that his partner had been appointed in December to a short-term role as communications adviser to Brendan Smyth, who reports to Mr House in the economic development directorate.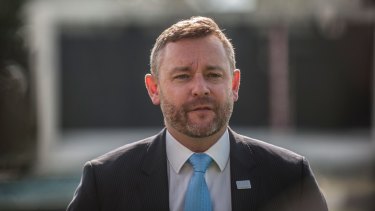 Mr House said he had been looking to leave the public service for some time, realising it was not for him, but would rather not be leaving in the circumstances of recent weeks.
"I had decided some time ago that the public service was not the right place for me but I'm proud of my achievements over the last 12 months," he said.
His resignation comes as uncertainty still hangs over the future of Land Development Agency chief executive and economic development director-general David Dawes, as his agency is restructured after a highly critical audit report on the agency's land dealings last year.
With the resignation of planning directorate director-general Dorte Ekelund, who said last week she would not renew her contract after April, the city's planning and land development scene is set for a major shake-up.
In the coming months, five new senior appointments must be made - to head the new economic development directorate, the new suburban greenfields land agency, the new urban infill land agency, the planning directorate, and now Mr House's job as head of Enterprise Canberra.
Mr House, was in charge of business, arts, events, sport and tourism, was parachuted into the senior role in November 2015, from his job as chief executive of Clubs ACT, where he worked closely and effectively with the government to push the clubs agenda. Until 2006, he was chief of staff to Labor deputy chief minister Ted Quinlan. He is also a long-time member of the Labor Party and most of his career has been in roles that involve close liaison with ACT Labor.
His resignation comes after Chief Minister Andrew Barr's appointment of Liberal politician Brendan Smyth to another senior role which was seen as a politically motivated appointment in the lead-up to the closely fought election.
It led to a second critical audit report, with Auditor-General Maxine Cooper saying the appointment of Mr Smyth was poorly documented and lacked transparency. She said while the appointment was within Mr Barr's powers to make, there was a lack of documented justification, no explanation for the chosen salary and no proper selection process.
Mr House was the public servant charged with making Mr Smyth's appointment and working out the details in July.
Mr House is Mr Smyth's boss. Then in December, Mr Smyth, heading a selection panel of three, appointed Mr House's partner as his communications adviser.
Mr House resigned on Monday but his future has been the subject of recent speculation.
His departure leaves yet another gap at the most senior levels of Mr Barr's directorate.
Another of the sources of tension in the economic development directorate last year was the controversy about close relationships between government and the city's private developers, and about land deals at Glebe Park and West Basin. Those deals were led by Mr Dawes's agency and entirely separate from Mr House's role, but they have led to a restructure, contributed to the gaps in leadership and given rise to uncertainty about Mr Dawes's role in the new directorate. Asked last week about his future, Mr Dawes said he was contracted till August 2020.
"My position with the LDA is just one of my responsibilities. The future of that role will be considered as the structures are determined for the two new agencies that will replace the LDA from 1 July this year," he said.
Mr Barr's office declined to comment beyond confirming Mr House's resignation and saying it was a matter for the public service.
Kirsten Lawson is news director at The Canberra Times