Shortis and Simpson twist classic tunes in We've Got Our Standards at Teatro Vivaldi
Shortis and Simpson present their take on some well-known songs, writes Ron Cerebona.
Have you ever wondered what ABBA's Money, Money, Money would sound like as a Berlin cabaret number? How about the often-recorded Blue Moon with a Japanese flavour? For their Christmas show, the musical duo of Shortis and Simpson have taken classic tunes - from classical, folk, and country music and TV themes as well as the American songbook - and in many cases given them a twist or two.
Shortis says the idea came from a show Simpson did without him a decade ago called I've Got My Standards.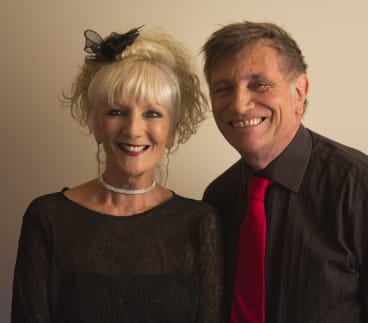 "We thought it might be good to do some of our favourite songs ... but do our own versions of the songs," he says.
"The show uses the full range of Moya's vocal range from male register notes to high soprano - the biggest range she's ever had to call on in the one show, she reckons."
But he will also contribute vocally.
Rather than simply relying on the American songbook-style "standard" - the songs of Cole Porter, George Gershwin and company - they selected songs that have stood the test of time from a wide range of genres and had fun with them.
"You Are My Sunshine is played in different scales," Shortis says - Chinese, Turkish, Debussy, blues.
"That came out of a music theory course I conducted earlier in the year."
Also featured is a "dirty version" of My Grandfather's Clock.
There's a medley of Bob Dylan and Johnny Cash songs with the word "blue" in them, Willie's Nelson Crazy is combined with the Mockingbird Yodel and there's also a rendition of My Man, made famous by Fanny Brice, inspired by a Barbra Streisand recording Simpson loved as a teenager.
Shortis says Simpson also sings Ralph McTell's Streets of London and tells stories of being a schoolteacher in the East End of London, as well as performing Kate Bush's Wuthering Heights and a "thrown-up-in-the-air" rearrangement of the old Eurovision Song Contest winner Puppet on a String.
As it's a Christmas show, the songs for the season are featured but the arrangements are unusual.
We thought it might be good to do some of our favourite songs ... but do our own versions of the songs.

John Shortis
"We play a medley of well-known Christmas tunes over well-known classical tunes - I play Bach's Prelude in C Major and over that Moya sings O Litttle Town of Bethlehem and Jingle Bells."
Fur Elise and We Three Kings are similarly combined, among others.
And it wouldn't be a Shortis and Simpson concert without a touch of politics - in this case a "best of" selection of their satiric numbers from the era of John Howard right through to Tony Abbott, commenting on various political and social issues with titles like It's Not Easy Being Crean.
Shortis isn't worried about people not getting the topical references.
"We know our audience - they're older than we are!"
We've Got Our Standards. Devised and performed by John Shortis and Moya Simpson. Teatro Vivaldi ANU Arts Centre. Saturday, November 29 at 7pm for three-course dinner and show: $70/$80/$90. Show only: $30/$40/$50, 8.30pm. Sunday, November 30, 5.30pm (canapes and show) $35/$45/$55. Ticket prices depend on seat location, Bookings 6257 2718 or vivaldirestaurant.com.au.