Singapore calls new MRT station Canberra
Next stop Canberra.
Passengers on Singapore's sprawling mass rapid transit system are about to get a taste of Australia's national capital, as the government prepares to build a new station named for our city.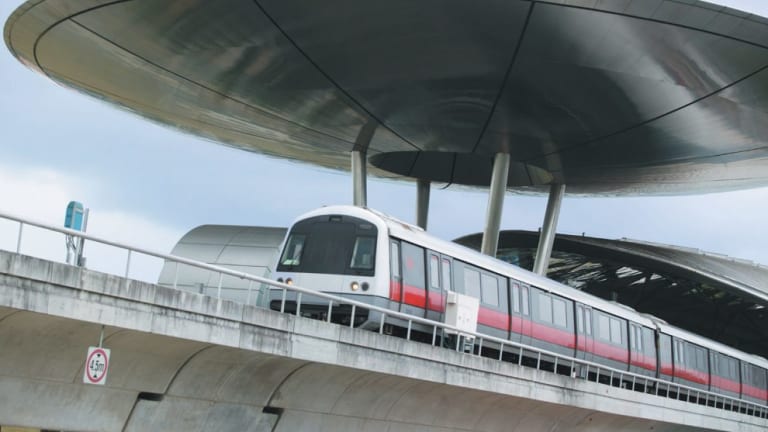 Transport Minister Lui Tuck Yew announced the name on Friday, bringing a small piece of Australia to the newest MRT station on the island's North-South line.
The move comes just a week after a successful trade mission including 40 Canberra business people and Treasurer Andrew Barr and a sustained push to raise awareness of the ACT as a tourism and investment destination.
The new station, to sit between Yishun and Sembawang stations, had been the subject of a feasibility study.
The area, home to more than 80,000 people, already has a park named after Canberra.
Mr Lui made the announcement to guests at a ceremony marking the construction of another station at Woodlands on the Thomson Line, which is expected to carry as many as 400,000 passengers each day.
He said Singapore's Land Transport Authority would make further announcements about the new Canberra station at a later date, including its exact location and when it will be opened to commuters.
Mr Barr toured sections of the MRT during his visit, including its state-of-the-art control centre and a massive warehouse for spare parts and equipment.
On Monday, representatives of the government agency planning Canberra's new light rail line will begin a public information push.
The Capital Metro Agency will use a "pop-up shop" at the City Bus Interchange to show early designs for the city to Gungahlin line and seek community feedback.
"This is the first big opportunity for the community to see and understand what light rail in Canberra will look like and how it will benefit them," Sustainable Development Minister Simon Corbell said.
"I would encourage the community to look at the proposed designs make the most of the opportunity to help shape this city changing project."
Consultation on the more than $614 million project will run until August 8.
Capital Metro director Emma Thomas will also take part in a briefing for media and other stakeholders at the ACT Legislative Assembly as part of the information campaign.
More than 2.6 million Singapore residents ride the MRT rail lines each day and the island's government aims to double the network's size by 2030. Its aim is for as many as eight in 10 homes to be able to walk to an MRT station in less than 10 minutes.
To aide the expansion, transport authorities will purchase more than 100 new trains and about 800 more buses.
Last week, the Assembly heard the new light rail line would see passengers travel from Gungahlin to Northbourne Avenue in 25 minutes and with 10 stops.