Sir Richard Kingsland dies in Canberra
Sir Richard Kingsland, a former RAAF Group Captain who shot it out with pro-Nazi French police in Morocco to rescue two of Britain's most senior WWII leaders in 1940, has died in a Canberra Hospital.
High ranking former defence leaders, including former chief of air force and chief of defence force, Air Chief Marshal Angus Houston, current chief of air force, Air Marshal Geoff Brown and former chief of air staff, Air Marshal David Evans, have all paid tribute to the gallant officer who subsequently rose to the highest ranks of the Australian public service.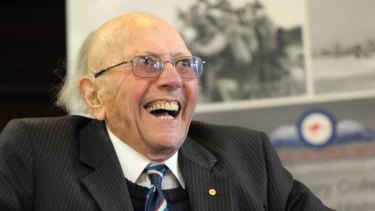 "He was an extraordinary man," Air Chief Marshal Houston said, "He's been around Canberra for a long time.
"People like Sir Richard gave everything during the war and then came back to build the modern Australia. He typified the no-nonsense, understated approach of that generation. They were never into self-promotion."
Sir Richard's senior public service posts included Secretary of the Department of Interior (1963-1970), Secretary of the Repatriation Department and then the Department of Repatriation and Compensation (1970-1976) and Secretary of the Department of Veterans Affairs (1976 until his retirement in 1981).
Air Marshal Evans said Sir Richard had finished the war as Australia's youngest ever RAAF group captain.
"He felt he had a long way to go and that, as a 29-year-old, his youth was against him (in the post-war RAAF)," he said.
Sir Richard's remarkable wartime career trajectory can be credited, in large part, to a mission to Morocco on June 25, 1940.
The passengers aboard his Short Sunderland flying boat were Field Marshal Viscount Gort VC and Duff Cooper, the British Minister for Information.
The two men were attempting, unsuccessfully, to rally the French leaders to the Allied cause.
On receiving orders to extract Gort from the hotel where he was in negotiations with the French Sir Richard seized a police boat, commandeered a car and shot his way into the building.
Both he and Lord Gort were locked up but, through an oversight, Sir Richard was not relieved of his sidearm.
"I blasted the lock apart. Naturally it attracted considerable attention and I shot two men advancing on us and raced to the exit with Gort," he later wrote.
"We all managed to get back on board but were quickly surrounded by police boats with armed crew. At dawn we fired the four engines simultaneously and made a precarious take off."
Viscount Gort went on to become the Governor of Malta, the George Cross Island, during the famous siege and Sir Richard, who was awarded the Distinguished Flying Cross for his efforts, returned to Australia where he commanded Number 11 Catalina Squadron in Port Moresby.
Flying Catalinas, which cruised at just under 200 km/h, he and his crews regularly risked their lives to bomb Rabaul where the Japanese had established a major base.
Calvary John James Hospital confirmed Sir Richard died after a short illness on Monday.
He is survived by his wife of 68-years, Lady Kathleen, two daughters and a son, four grandchildren and three great grandchildren.
"Sir Richard inspired others to follow in his footsteps. True to this generation of fine Australians, he was always humble about what he had contributed and achieved," Air Marshal Brown said. "My thoughts are with Lady Kingsland and his family, who have supported Sir Richard throughout his life."