Skywhale flown to UK for emergency surgery
Skywhale had to be rushed to Britain for emergency surgery to ensure the 34-metre by 23-metre artwork would be ready for its public debut at the weekend.
Jeremy Lasek, executive director of culture and communications for the Chief Minister's directorate, confirmed some stitching had come loose when it was being tested in Victoria several weeks ago.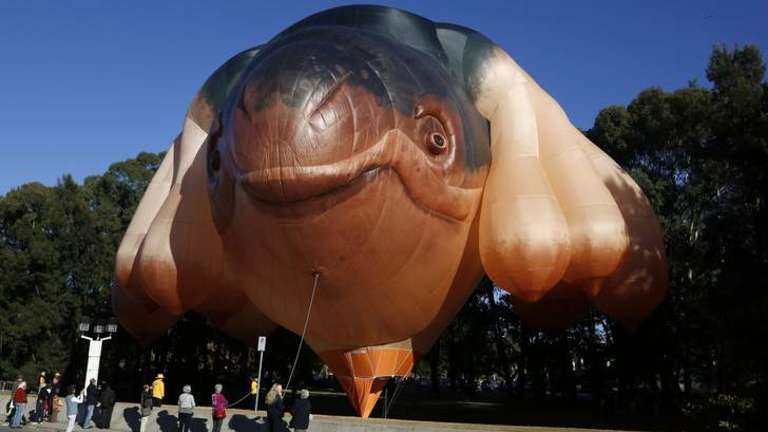 The manufacturer paid for the transport costs, which came to about $10,000 each way, dearer than some first-class fares.
''My understanding is it was strengthened in a number of places,'' Mr Lasek said.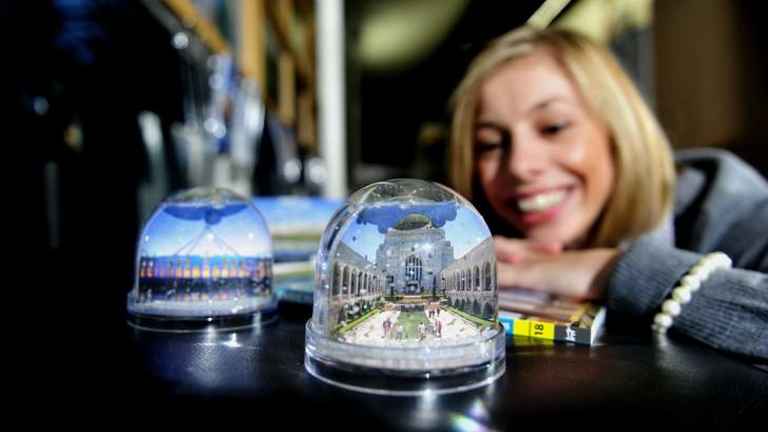 Wet weather prevented the Centenary of Canberra balloon from flying on Monday but Canberrans are expected to get another chance to see it in the air this week.
Mr Lasek said there were no plans for the sale of commemorative Skywhale merchandise, such as postcards or clothing. But he said any potential sponsors who were interested in developing Skywhale merchandise were free to approach the government. ''If they want to work with the artist and she's equally happy, that's fine,'' he said.
The most popular ACT memorabilia sold in the Canberra and Region Visitors Centre varies according to season, but usually includes snowdomes, postcards, scarfs and shirts.
A range of high-end centenary memorabilia is also on sale.
While the Federal Parliament will be focused on the budget on Tuesday, ACT Legislative Assembly question time is expected to include questions about Skywhale as the ACT government keeps secret most of its contract for the controversial hot air balloon.
Skywhale has reignited the acrimonious debate about public art in Canberra since it was revealed the balloon cost taxpayers at least $100,000 more than initially indicated and it did not belong to the territory government.
Six of the 11 pages of the contract between the ACT and Melbourne-based specialist balloon operator Global Ballooning have been left blank in the version of the document that has been made publicly available with the pages simply marked ''confidential text''.
On Monday, Mr Lasek said any release of the concealed information would have to be approved by the company which could take as long as two weeks.
Questions have also been raised over whether the government undertook a tender process for the job of manufacturing and operating the balloon, designed by Canberra-born artist and designer Patricia Piccinini.
Liberal MLA Brendan Smyth said questions needed to be answered about the breakdown of the project's budget, which cost the ACT government $300,000.
Mr Smyth also said the government needed to provide more details of the tender process and ownership of intellectual property.
''From my understanding the bulk of the ballooning community had no idea this was on offer or was coming,'' Mr Smyth said.
Damian Crock of Melbourne's Picture This Ballooning said his firm, which he says is the only other
Australian company capable of undertaking such a complex project, would have been keen to participate in a competitive tender process if it had been given the chance.
''I would have thought that they'd be duty-bound to find the best operator at the best price and Global is an excellent operator,'' Mr Crock said. ''We were not aware that there was a tender going on and if we had been aware, we would have been very interested in tendering for the job.''
Mr Lasek said centenary authorities sent a request for proposal to five specialist balloon manufacturers and received only one tender submission, from Cameron Balloons in Bristol.
He said three Australian companies were invited to tender for the balloon's operations, with the successful tender costing $3500 per flight.
The remainder of the $166,000 tender price includes travel and accommodation costs for the operators, test flights, photography and video, website and social media services and education resources for school students. ''It should be noted that [a] basic balloon normally requires stitching of under 10 pieces of material, whereas the Skywhale includes 115 pieces of material in its complex design,'' he said.
A YouTube video of the balloon's first flight has attracted more than 54,000 views, and Tourism Australia posted a photo gallery of Skywhale on its Facebook page on Monday.