Smiles and cuddles as Olympian visits school
The five sports that make up the modern pentathlon generated excitement and many questions when Olympic athlete Chloe Esposito visited Palmerston District Primary School yesterday.
The champion pentathlete was greeted by a sea of little hands at the school.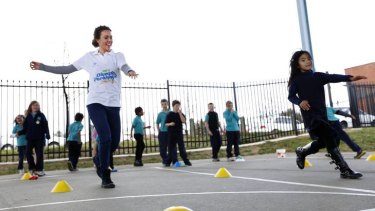 The children were bursting to ask questions about the sport that incorporates swimming, running, shooting, fencing and horse riding.
Palmerston Primary pupils make up some of the 50,000 children from around Australia taking part in the Prime Minister's Olympic Challenge and they had the opportunity yesterday to get some advice from the Olympic athlete before she heads off to London.
The children quizzed Esposito about the five sports encompassed in the modern pentathlon, firing questions about how fast horses run, if it's scary when they jump, ''what type of things she shoots'' and how many metres she runs.
Esposito said she was honoured to be able to come to speak to the children about her sport and to highlight the importance of an active and healthy lifestyle.
''It's really nice seeing them listening to me and I'm happy I can inspire them by doing something that I love,'' she said.
Pupils Mickias Aderajew and Caitlynn Hill said they were very excited to meet Esposito and were looking forward to watching the Games, especially as they could now look out for a familiar face.
''When I got chosen to meet her I couldn't stop smiling,'' Caitlynn said.
''The pentathlon looks pretty cool,'' Mickias said.
Esposito, daughter of Olympic modern pentathlete Daniel Esposito, is the modern pentathlon ambassador for the Olympic Challenge and has her sights set on becoming Australia's first Olympic medallist in the pentathlon.
''Not too many people know what a pentathlon is or what's involved, which is why visiting schools is good because they can learn about it at a young age and hopefully try it out,'' she said.