Smoking ceremony clears evil spirits from unique Kambah public housing project
Across the road from a Baptist church and next door to a Sri Lankan Buddhist temple, an Aboriginal smoking ceremony took place on Friday, heralding a unique public housing project in the ACT.
The $1.5 million project in Jenke Crescent, Kambah, will see "culturally appropriate" housing built by the ACT government for older Aboriginal and Torres Strait Islander people.
A focus on a communal meeting place including a fire pit are among its features, as well as a connection to the landscape. Native plants including medicinal and bush tucker plants will be included in the project.
The five, two-bedroom units will be built on vacant land off Athllon Drive. The project is due for completion in September, with Blackett Homes winning the construction tender.
Canberra firm Collins Caddaye Architects was presented with some specific challenges in designing public housing that met the needs of the older Aboriginal and Torres Strait Islander tenants.
Architect Jacquelin​ Howard said the firm took advice along the way on the design from the ACT Aboriginal and Torres Strait Islander Elected Body.
The units were arranged in a fanned arrangement that focused on the meeting area but which also afforded some privacy.
"It's all about that community involvement and everyone looking into the landscape," she said.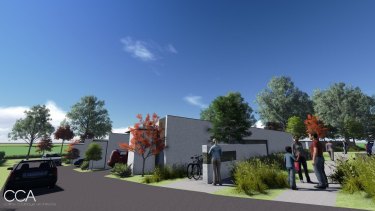 "One of the biggest things we focused on was how we made the meeting places and incorporating that open fire underneath the gum trees.
"It was really important for us to keep as many of the gum trees as possible, because that's one of the reasons this site was chosen is because of the significance of those trees.
"They talked a lot about having their extended families over so it was always about that extension of their living areas out into their private courtyards and further again into that meeting space."
Ngunnawal elder Aunty Agnes Shea said the smoking ceremony on Friday was about clearing the site of evil spirts and protecting its future residents before the construction. Ashes from the fire will be built into the foundations of the units.
ACT Aboriginal and Torres Strait Islander Elected Body chairwoman Diane Collins said the start of the project was a great day for the local community.
"It's important we have a facility that provides not only accommodation but also somewhere our mob can sit around, have the fire pit, have some conversations and have our young ones come in and sharing with our elders," she said.
"We know they're old and can't get out as much so to have that community involvement is good."
Housing Minister Yvette Berry said the project was the first of its kind in the ACT.
"I've spoken to other Aboriginal and Torres Strait Islander ministers and housing ministers in other states and territories and they are really interested in this project as well," she said.
Aboriginal and Torres Strait Islander Affairs Minister Chris Bourke said respect for elders was critical in the culture.
"The opportunity for elders to live in the same place means people will be able to support each other and have extended family over to gather and talk and that's a great resource," he said.
The site was one of four shortlisted for the project, selected ultimately for its proximity to services.
A video of the development is at https://www.youtube.com/watch?v=LD2oCt1qaec.
Megan Doherty is a reporter for The Canberra Times