South Jerrabomberra formerly South Tralee 'reset' sees dwellings scaled back
The building company attached to the South Jerrabomberra project, formerly known as South Tralee, has admitted they "underestimated the complexities" of the project before selling blocks to the public.
Village Building Company has announced a "reset" on plans for the proposal in 2018, including scaling back dwellings by almost 40 per cent, from 1221 to 750.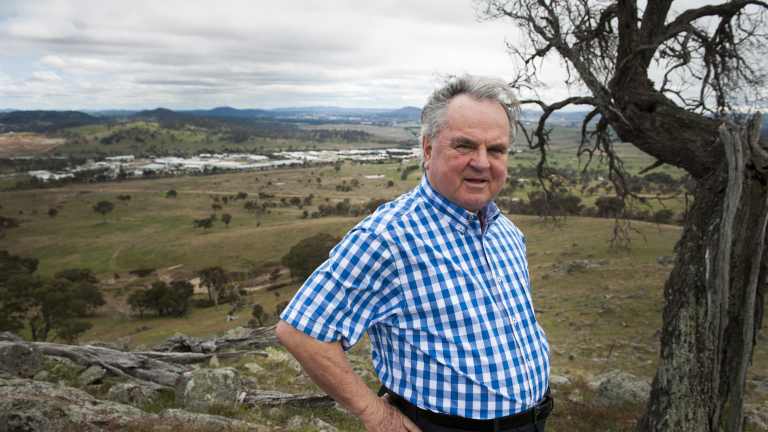 Fewer dwellings removes the need for a road connection to the ACT, which caused further delays in the long-running project due to the cross-border nature of the infrastructure.
The company sold blocks of land in 2014 to 144 people, but delays continued to plague the project and buyers were given the green light to back out two years later.
The project was first planned more than a decade ago and has been marred with delays and controversy since its inception, including opposition from the Canberra Airport and a lack of support from the ACT and federal governments due to its location beneath, but outside, the Australian Noise Exposure Forecast.
Project director Clare Gilligan said there was a renewed energy and a new vision for the initial release area at South Jerrabomberra, which would become a village-style community.
She said the revised development proposal, which has the support of state government agencies and the Queanbeyan-Palerang Regional Council, was a necessary step after a government decision in 2016 that meant all major infrastructure requirements would need to be resolved for the entire release area before proceeding.
"There is still a long way to go, but we are positive that the changes we have made are putting us in better stead for the future," Ms Gilligan said.
At a council meeting on Wednesday night, key milestones were approved for the project, including the adoption of the development control plan, which will "provide some forward momentum".
"This is as far as we have ever come," Ms Gilligan said.
"We anticipate fewer delays this time around with cross-border approvals no longer an issue and a willingness from all parties to resolve previous sticking points."
She said the turning point came last year after the development applications for stage one and two were refused.
Village Building Co had already sold plots to buyers in 2014, but the refusal meant they couldn't deliver.
"In light of this, Village Building Co. offered purchasers of pre-sold lots the chance to walk away from the project with compensation of 7.5 per cent interest on their full deposit. Remaining contracts were rescinded after the sunset date," Ms Gilligan said.
"With hindsight, all parties underestimated the complexities of the project and the various infrastructure issues that prevented us from getting the project across the line in its previous form.
"We recognise this has been tough for all those involved in the project and we thank them for their patience."
Kimberley Le Lievre is the Editor of The Sunday Canberra Times