Spinal injury patients have access to new gym in Canberra
For 23-year-old Jordan Kramp, regular therapy at a specialised neurological gym is his lifeline to independence.
He suffered a spinal injury when he was 19 in a kite surfing accident that left him a quadriplegic.
Up until recently, the only way he could access Spinal Cord Injuries Australia's NeuroMoves program service was a trip to Sydney.
Just last week he successfully transitioned into his wheelchair independently for the first time thanks to work at the gym with physiologist Claudia James.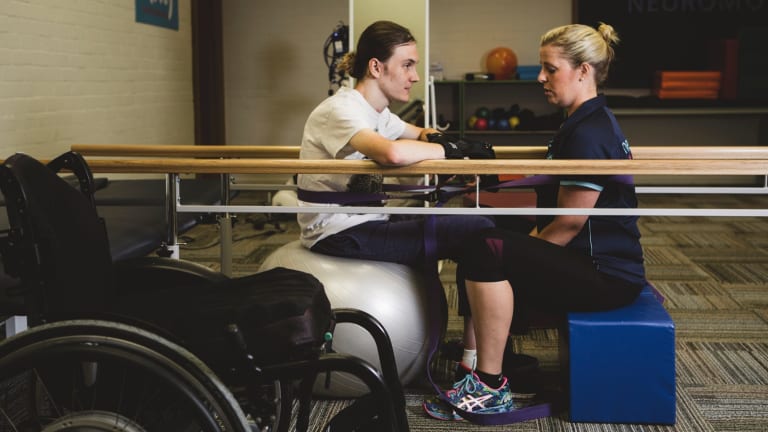 Mr Kramp was part of a group of Canberrans who successfully lobbied the ACT Government to provide a grant for NuroMoves to come to Canberra, the first specialist neuro gym in the ACT.
"You always have a long list of things you want to accomplish but at the moment I'm focussing on just being able to more or less independently get myself in and out of the wheelchair, being able to use my body in a functional way and to be able to accomplish everyday tasks," he said.
"Things like being able to reach for things, move yourself around in bed, being able to be active and maintain as independent of a lifestyle as you can.
"Every bit of strength you manage to get back helps towards that in leaps and bounds."
Mr Kramp said having the service in Canberra meant he could focus on getting on with his life, with more time for work, study and socialising.
The program uses specialist equipment and a range of therapeutic exercises to help people achieve their individual goals for mobility, strength and fitness. In turn, this helps people become more independent, boosting their self-esteem and mental health.
Minister for Community Services and Social Inclusion Rachel Stephen-Smith said she was thrilled to see the program launch in the ACT.
"This great service will now be more accessible for the Canberrans who need it, and I want to thank the passionate advocates who drew our attention to this opportunity," she said.
"The NeuroMoves program provides quality individualised support to improve function, mobility, fitness and independence."
Daniella White is a reporter for The Canberra Times
Morning & Afternoon Newsletter
Delivered Mon–Fri.