When Jennifer Bowker moved to Syria with her husband, she didn't know how much her life would change.
The ex-Australian National University science lecturer quickly came to love Middle Eastern culture and art, and when returned to Australia she began making quilts. She made her first in 1997 for a bit of fun, but found she had a passion for the art.
"They [quilts] feel as if they invite you to touch them, people reach out to touch quilts but they don't do that with oil paintings," she said. "You look into a fabric, whereas you look at a painting."
Mrs Bowker, who lives in Garran, has inspired a documentary, taught quilting nationally and internationally, written several articles about the art and is the founding member of Tactile – a collective quilting group.
The renowned artist will add another achievement to her list when she is made an officer in the Order of Australia in Monday's Queen's Birthday honours list, which recognises her work on Australia-Middle East cultural relations through the preservation of traditional arts.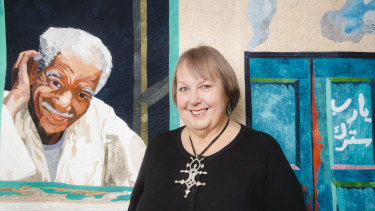 Mrs Bowker's friends and family kept her in the dark about her nomination, leaving her completely "mind blown" when she found out.
"I have been excited for months. I've been waking up at night just thinking about it and the fact that I am recognised by my country for something that was really easy for me.
"I feel so ordinary and it's so amazing," she said.
Mrs Bowker has worked with Middle Eastern artisans to help show their art around the world for more than 10 years.
"People are hanging … printed fabrics instead of paying the stitchers to make them. This has been dying and I couldn't bare the idea of it dying.
"By taking the men and exhibitions overseas, we have started to build an interest," she said.
Mrs Bowker's biggest piece of advice is "you just have to be yourself, so you stop pretending and do what you want to do."