Sullivan pockets $1m in bonuses
ACTEW managing director Mark Sullivan has received more than $1 million in bonuses and incentives since 2008 as part of his salary package, according to documents released under freedom-of-information laws.
The documents show performance entitlements of $334,000 in 2010-11 alone. This is 40 per cent of the $855,000 pay figure the water utility twice under-reported by $234,000 in 2011.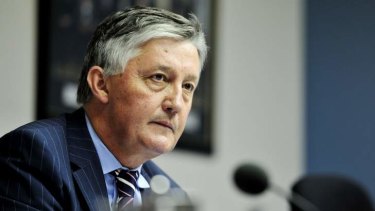 The controversy over Mr Sullivan's salary this year led to the dramatic resignation of ACTEW chairman John Mackay at a special meeting with the Chief Minister and Treasurer in April.
The corporation, which refused to comment on Sunday, also agreed to put an end to performance bonuses for executives at the water utility and to cut its managing director's pay by $140,000.
Correspondence between Mr Mackay and Chief Minister Katy Gallagher in March shows Mr Sullivan collected $1,018,000 in bonuses and incentives between 2008-09 and 2011-12.
The documents also show the managing director's total remuneration entitlements grew by about $275,000 between 2008-09 and 2010-11. A breakdown of his remuneration entitlements shows short- and long-term incentives totalling $144,000 in 2008-09 and $223,254 in 2009-10.
The introduction in 2009-10 of a "special performance bonus" related to major water security projects increased Mr Sullivan's incentive and bonus entitlements to $334,417 in that year and $316,410 in 2011-12.
In April this year it was revealed that the expected cost of the expanded Cotter Dam had climbed to almost $410 million, nearly $50 million above a previous budget of $363 million.
Its completion deadline has been pushed back to next month.
In a March 28 letter to the Chief Minister, Mr Mackay said incentives and bonuses earned in a financial year were paid in July of the following year after ACTEW's remuneration committee reviewed Mr Sullivan's performance.
Mr Mackay said "in reviewing Mr Sullivan's performance in 2010-11", the committee approved a 3 per cent salary increase and the payment of a $100,000 short-term incentive, a $129,417 long-term incentive and a special performance bonus of $105,000.
The special performance bonus was paid in full in 2010-11 and in 2011-12 the water utility agreed to pay 50 per cent of that bonus, the letter continues.
An earlier letter to Ms Gallagher dated March 21 states the committee had agreed that Mr Sullivan's performance in 2010-11 was "outstanding and that he had exceeded all of the targets set by the committee".
The March 28 letter says that consultancy firm Egan Associates conducted reviews of Mr Sullivan's remuneration package in 2008, 2009 and 2010 but not in 2011 or 2012.
During the controversy over Mr Sullivan's salary package ACTEW said the independent reviews had guided the setting of his pay.
The correspondence between Mr Mackay and Ms Gallagher shows Mr Sullivan's total remuneration entitlements, including superannuation, rose from $581,156 in 2008-09 to $717,224 in 2009-10 to $855,588 2010-11. The documents list Mr Sullivan's remuneration package for 2011-12 at $854,037.
In his March 28 letter Mr Mackay apologised for the under-reporting of Mr Sullivan's 2010-11 salary and said "in retrospect" he should have informed the Chief Minister of the $234,000 error as soon as he was advised in October 2012. The government was not notified of the under-reporting until March.
In his March 21 letter, Mr Mackay repeated advice that the under-reporting related to the long-term incentive and special performance bonus for that financial year.
It said the components of Mr Sullivan's salary package ''were consistent with'' his package negotiated and agreed by the former chairman Jim Service and former managing director Michael Costello in May 2008. Mr Sullivan agreed to the $140,000 pay cut in April.