Summernats face enters politics
Former Summernats impresario Chic Henry will run in this year's territory election.
The former car festival promoter will contest the northern suburbs electorate of Ginninderra for the Australian Motorists' Party when Canberra goes to the polls in October.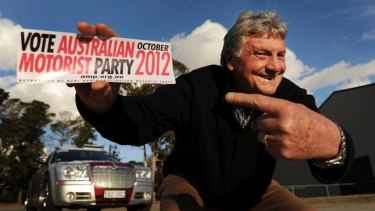 Mr Henry had a high public profile in Canberra for more than 20 years as the face of Summernats, the annual "boobs, beer and burnouts," festival held at the EPIC showgrounds.
The candidate ran the event, held at the city's EPIC showgrounds, from its inception in 1988 until he sold the rights over the event in 2009
The newly declared candidate has been out of the news since he took a backseat at the show's parent company, Street Machines.
Mr Henry's newly adopted party emerged before the 2008 territory election and they picked up just over 10,500 primary votes – about 5 per cent of ballots cast - across the territory with their platform of advocating for Canberra's driver.
The party has yet to announce its plans for other candidates and electorates.
Despite being associated with the Liberal Party over the years, Mr Henry said the Motorists were a natural fit for him.
"If you think about all the things I've been known for, at the end of the day, I love cars, I love driving my car every day.
"I love motorsports, high performance cars, I couldn't have run Summernats all those years if I didn't love what it was all about so I think (the Motorists) were a closer fit to what I was all about," he said.