Survey seeks user views as battle lines set on light rail ahead of 2016 ACT vote
A year out from the ACT election campaign reaching its peak, community groups debating the government's $783 million light rail plan are rallying their members and seeking to influence the views of voters.
On Sunday, Chief Minister Andrew Barr used a social media pitch to Prime Minister Malcolm Turnbull to call for federal funding for a future tram line into the parliamentary triangle, saying a funding commitment would be a "great announcement".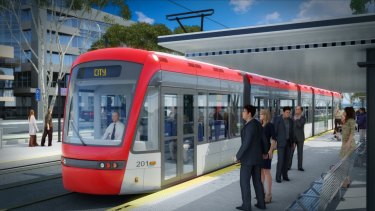 The comments came after Mr Turnbull committed $95 million in funding to stage two of the Gold Coast light rail line. It is set to open in time for the 2018 Commonwealth Games.
The ACT Light Rail group believes the ACT government's plans for a 12-kilometre first-stage line from the city to Gungahlin, with a possible 3.2-kilometre extension to Russell, will be a public transport and planning game changer.
The Can The Tram group believes tram services are unsuitable and too expensive for a city with low public transport use and widely spread urban centres.
This week, The Canberra Times invites readers to give their opinions on the 12-kilometre city to Gungahlin tram line in a new online survey.
More than 6000 people took part in a October 2014 survey, with 70 per cent saying the tram would influence their vote in 2016.
Of the self-selecting online sample, 54 per cent said they opposed light rail.
ACT Light Rail chairman Damien Haas said it was too soon to know how prominent the tram proposal would be in the election campaign.
The Liberal opposition has pledged to stop construction and pay compensation to the successful consortium.
Mr Haas backed a line into the parliamentary triangle.
<!--[if gte mso 9]>00122127Genazzano College1114814.0<![endif]--><!--[if gte mso 9]>Normal0falsefalsefalseEN-AUJAX-NONE<![endif]--><!--[if gte mso 9]><![endif]--><!--[if gte mso 10]><![endif]--><!--StartFragment-->"I think if you run a line from Civic, out to Russell and then up to Parliament, it becomes a true tourist line and it would mean anyone who stays in Civic can go out as far as Exhibition Park or Gungahlin or all the way to the national attractions," he said.
"If you go up Kings Avenue, the line would be 100 metres or so walk to the National Library or Old Parliament House, and that kind of opportunity is a natural thing to be acted on."
He said the community had "made up its mind" in favour of the tram.
The group has more than 500 members on its Light Rail for Canberra Facebook page and meets regularly with community councils and public transport advocates.
Among the strongest opponents are members of the Can The Tram group, which is behind regular information stalls at shopping centres, letterbox flyers and letters to the editor.
Can The Tram spokesman Julian Fitzgerald said the government had failed to convince the public of the need for the tram.
"No one that I speak to believes the cost that the government is saying and we expect those costs to continue to blow out," he said.
"We believe that light rail has always been slower and more expensive than bus travel. That is another issue that many of the people who come up and speak to us from all walks of life, from all political parties and all suburbs of Canberra [have]; they don't think there is anything wrong with the bus system now."
Mr Fitzgerald said the government's commitment to the tram had led commercial and residential rates to "go through the roof" under Labor.
Capital Metro Agency officials are considering bids from two shortlisted consortiums, ahead of the contract being awarded and construction from 2016.
The consortiums this month gave the government extra bid information for the proposed extension to Russell.
Tom McIlroy is a political reporter for The Australian Financial Review in the federal press gallery at Parliament House.