The ADF arts program changing lives with the help of the University of Canberra
The Defence Force and the arts do not naturally fall together but music, drama, words, images are proving to be the salve needed by wounded soldiers.
Men and women of the Australian Defence Force scarred physically and mentally by their service are finding new confidence, self-esteem and resilience in a program that uses the arts to help them come out of themselves; to shrug off the problems weighing them down.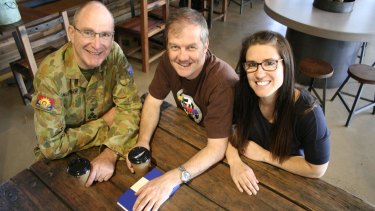 The ADF Arts for Recovery, Resilience, Teamwork and Skills (ARRTS) program, delivered in partnership with the University of Canberra, has just finished a four-week program with 27 Defence Force participants from around Australia, all of whom have various injuries ranging from post-traumatic stress to physical wounds.
The ARRTS program was launched this year with a trial of 18 participants. It followed the success of an ADF collaboration with the Sydney Theatre Company to produce the play The Long Way Home, which toured nationally last year.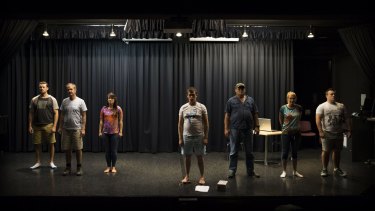 ARRTS co-ordinator Brigadier Wayne Goodman, who participated in The Long Way Home after suffering a traumatic brain injury in a bike crash in Canberra in 2011, said the play was the catalyst for more arts-based therapy for defence personnel.
"Because the play was really good for the participants in their own recovery, we decided there should be something else for our broader defence community. And we thought the arts is a really good place to start," he said.
"We want to take people outside their normal comfort zone but do it in a nice way, in a relaxed way. And make sure we do no harm.
"It's about starting something different, learning a new skill, re-learning a hobby. Just realising the military is not you. It's broader than you."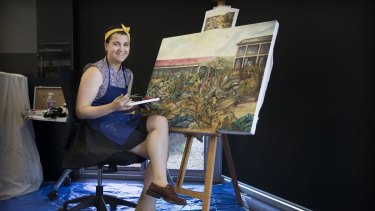 The participants were mentored at UC in drama, visual arts, creative writing or music and will showcase their efforts at the university's Inspire Centre on Friday night in front of a VIP crowd including the chiefs of army and navy.
But for many, the journey has been just as important as the destination.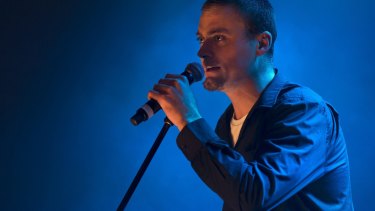 After 18 years in the Royal Australian Navy, Lieutenant Commander Damon Craig was suffering from anxiety and "really low moods" after being unable to "unpack" all the experiences he had been through in service, including deployments to the Middle East.
"In military, we're a big team and I played very small roles in some very big pictures and I didn't know how to unpack that," he said.
"I had compartmentalised all my emotions and that probably wasn't healthy. I liken it to those Tupperware containers, you seal it up, put it on the shelf and never get back to it. Then when you do open it, it's all stale and disgusting and you don't want to deal with it."
The 41-year-old father-of-two from Canberra was placed in the drama stream of the program – putting him squarely in the spotlight and pushing his boundaries.
"I thought, 'That's not where I need to be'," he said. "Day one was uncomfortable, day two was stressful and day three onwards was just fun."
Lieutenant Commander Craig said the course had helped him to "not take myself too seriously".
"I had totally lost my sense of humour," he said. "In the military, you need a lot of skills and a little dash of humour. I had my skills there but I'd lost my humour. And my sense of self."
Australian Army Staff Cadet Kelly Barnes grew up in Tuggeranong before joining the forces 18 months ago. Two serious incidents set her off track from her studies at Royal Military College, Duntroon.
"Late last year, when I was doing a field exercise out bush, I had quite a negative interaction with another staff cadet and unfortunately, due to that I started to suffer anxiety," she said.
"And then in March this year, after another battleblock out-field, I injured my spine so that got me transferred into the rehab area at RMC and that just compounded my issues."
She fell into depression for two months and decided to join the ARRTS program to try to bolster her confidence and resilience.
"They were two things affecting my mental state," she said.
"Being pulled out of class and not graduating in two weeks' time as all my friends are going to be is really tough. So that really impacted on my confidence as well as the depression and anxiety.
"So when I saw the pamphlet about the program, I thought, 'Is it going to hurt?' I thought, 'No, so I'll give it a go'."
Staff Cadet Barnes, who says she wasn't an arty person, now "doesn't want the program to end".
"I've come quite out of my shell and I'm probably known as one of the loudest people in the group. And that's the real me," she said.
"I've got past my depression and my anxiety now and I'm just weaning off my medication. So I'm basically better and the program has helped me find myself again. I'm my happy, positive self again."
It had been a welcome circuit-breaker working with the other participants and staff at UC.
"The vibe is quite different. I feel supported. It feels positive and just happy. And then I go back to RMC for a visit and it just doesn't feel the same. I don't feel the support that probably should be there. So that's still going to be a challenge for me when I return on Monday," she said.
"But this program has helped me. It's provided me with advice and people to support me."
Brigadier Goodman said the program would continue, a two-year contract going out to tender next year, at which time a venue would be decided.
"We would like to cement this in Defence's culture," he said.
Megan Doherty is a reporter for The Canberra Times