The Bible Garden: A spiritual garden containing plants from the Bible
A fitting Bible verse for this week's launch of The Bible Garden book would perhaps be Hebrews 6:7: For ground that drinks the rain which often falls on it and brings forth vegetation useful to those for whose sake it is also tilled, receives a blessing from God.
The weather might have dampened the occasion but not the spirit of 93-year-old author John Miller as he spoke about the story behind his book.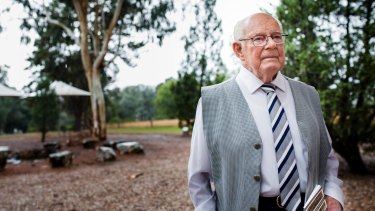 Mr Miller was friends with Margaret Roberts, who was the office manager of the Australian Centre for Christianity and Culture in Barton when the actual garden was established in 2008.
The pair agreed that the beautiful garden, which contains 68 of the 148 plants mentioned in the Bible, from almonds (Genesis 43:11) to wormwood (Proverbs 5:4), needed some kind of documentation beyond the small plaques which identified the botanical name and Biblical reference.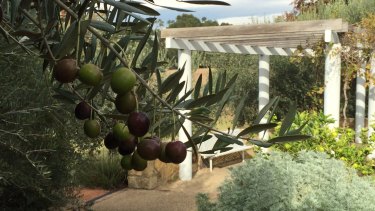 "We were not in the business of horticulture, we were there to lead people to God," Mr Miller said.
"So I decided on a book, one which would spell out the Bible text but also include a spiritual passage for each page, something good for the soul."
Mr Miller, who describes himself as more a man of religion rather than a gardener, began to search the Bible for apt verses.
"This took months," he said.
"One book mentioned only one plant but I had to read the whole book to learn it had no spiritual messages at all.
"But I also found that the horticultural stories such as cyclamen in Lily of the Valley, the hyacinth in the Song of Solomon bought back so much Bible knowledge that their spiritual impact was at least as great as the verses I had found."
Horticulturalists Derini and Brad Ayers, of Green Leaf Landscapes, Albury, have worked on the garden since construction began in 2007.
Ms Ayers said the project has been a challenge, with ongoing soil and pest issues.
"One of the most interesting things however has been sourcing all the plants," Ms Ayers said.
"Often you'll find obscure nurseries online which might have something and it's always good when that happens."
Located on the shores of Lake Burley Griffin, the Bible Garden was made possible through a grant from The Bible Garden Trust set up by Gerald Hercules Robinson, a businessman who was actively involved in his church during the latter half of last century. He built a Bible garden on his property in Sydney which contained 143 of the 148 plants. The property was sold in 2006 and some funds from the sale were used to build the Canberra garden.
The book is available for $20 from the Australian Centre for Christianity and Culture. Contact the centre for more information on 6272 6201.
Karen Hardy is a reporter at The Canberra Times.