The setting sun is painting the sky pink and the lengthening shadows creeping across the parched paddocks hide the recurring tale of another harsh Australian drought. Things always look better in the afternoon light, and here it's no different.
Down below, in the ancient river red gums that line the main channel of the Murrumbidgee River, flocks of sulphur crested cockatoos, exhausted from fleecing farmers of their crops, squawk incessantly, squabbling for roosts. Adding to the temporary cacophony is a chorus of cattle mooing and newborn lambs bleating.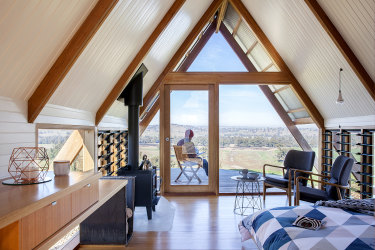 You'd be hard pressed finding a more quintessential rural scene anywhere in Australia than here at Kimo Estate, near Gundagai. Farmed for almost two centuries, the charm and hardships of this slice of the Riverina is steeped in folklore and legend, having been romanticised in more than 30 Australian ballads and poems from a range of songwriters and poets including Banjo Paterson.
However, as captivating as the dusk vista along the river flats is, my gaze is instead focussed on a striking structure directly in front of me. Conspicuously perched atop a hill and with the sun's rays reflecting off its corrugated iron-roof, it stands out like a beacon.
JR's Hut is the brainchild of David and Emelia Ferguson who have transformed their 3000-hectare farm on the outskirts of Gundagai into an accommodation hub for those seeking an alternative to the old-school 1970s motels which greet weary travellers on the Hume Highway.
They've converted the shearing shed into a knock-out bungalow with mess hall for dinner parties and a couple of historic cottages into sought-after weekenders, however, there's no doubt that this spectacularly positioned hut is the jewel in their crown.
"Until recently the hill was just another paddock, that was until we had a family barbecue up here," recalls David.
"Dad thought it'd make a great spot for a hut, so the idea was born," explains David.
Despite its name, cleverly designed with two centuries of farming at front of mind, this architecturally designed love-nest is anything but a hut, which implies a certain ramshackle appearance.
It's stylish simplicity and its distinctive shape, inspired by a classic A-frame tent, simultaneously provides both refuge from, and a connection to the natural environment. According to David "it also reflects the many gabled sheds around the property".
I'm especially enamoured by the giant iron-stirrups which anchor the building to the ground and which David explains "are designed to rust, for the building to change and grow in time".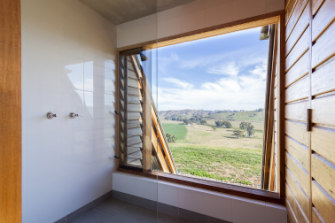 Inside, it's just as impressive: Australian hardwood floorboards, floor-to-ceiling windows framing a different view to each horizon, a cosy wood fire heater and a queen bed commanding centre stage.
Don't worry about backyard dunnies here, there is an ultra-modern ensuite (yes, with flushing toilet) where you can indulge in a hot shower looking over rolling hills for as far as the eye can see. Divine!
Not surprisingly, given its proximity and appeal, a flick through the guestbook reveals that since opening just 18 months ago, JR's is proving very popular with love-struck Canberrans seeking a romantic getaway.
One couple's entry reveals "just amazing, and she said yes" while another boasts "might name the child JR if it's a boy". Enough said.
In fact, I can't find one single entry which indicates that prior to tonight anyone has bunked down here solo.
But JR's needn't just be for canoodling couples. It's just as enticing as a writer's retreat or a reader's eyrie.
This evening, I fall into the latter category and after lighting the fire, I start turning the pages of Captain Moonlite: Victim or Villain (Samantha Asimus, Ginninderra Press, 2012). It's the story of Andrew George Scott, aka Captain Moonlite, dubbed by some as Australia's first gay bushranger.
After being captured at nearby Wantabadgery Station following a hold-up in which a policeman was murdered, Moonlite was hanged at Sydney's Darlinghurst Gaol in 1880 and promptly interred at Rookwood Cemetery.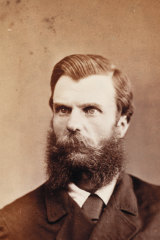 However, in 1993, following the discovery of long-lost letters containing his dying wish to be buried near Harry Nesbitt, his ''close companion'', Moonlite's body was exhumed and reinterred in North Gundagai Cemetery, just metres from Nesbitt's final resting place. Remarkable.
Serendipitously, it's only while later sifting through files on the history of Kimo that I discover Christine Ferguson, David's mother who still lives at Kimo, was one of the two women who led the charge to exhume Moonlite's body.
In fact, returning bodies to ''rightful'' places must be infectious at Kimo, for previous owner James Robinson, (after whom the hut is named), was one of several local businessmen responsible for bringing back Phar Lap's body to Australia after the famous racehorse died in mysterious circumstances in California in 1932.
Dinner was going to be a counter meal at one of Gundagai's landmark pubs or takeaway from the local Chinese restaurant, which, according to the compendium in JR's, is much better than it looks. "Don't be fooled by the décor, this place has very good Chinese food," it recommends.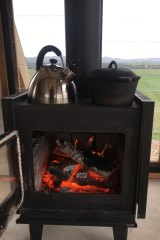 However, I can't bear to tear myself away from my snug fireside nook, so instead I raid the esky-come-fridge outside under the eaves which is stocked with local wine (one even named in honour of Moonlite) but also crammed with breakfast goodies including bacon, eggs (Kimo-branded of course), wilted spinach and a fresh bean mix. They've obviously catered for two, so under the Milky Way, on the outdoor barbecue, I cook-up an evening feast.
Between turning the bacon, I can just hear the hum of trucks hurtling down the Hume Highway about 10 kilometres away, their lights a distant glow, a reminder even out here, a place many city-slickers would regard as the boondocks, that our fast-paced world is never that far away. It makes you appreciate even more that you are away from the rat race, at least for one night.
Back inside, after my impromptu dinner for one, it's time to pour another glass of wine and bury my nose in another book. However, it's not long before the lure of a good night's sleep gets the better of me.
The incessant light of bedside clocks and the intermittent whirring on and off of the fridge are a constant annoyance in many holiday cabins, but totally off-grid, there are no unwelcome distractions here (although under a full moon, with no curtains might be a bit bright for some), and so it's to the comforting sound of the crackling fire I blissfully nod off.
To capitalise on the appeal of JR's Hut, the Fergusons are already planning two moreeco-huts on their estate. But don't worry, they'll be far enough away (over a kilometre) that you can still prance around in your birthday suit.
"They will be of similar design to JR's, one looking over the river and the other with a view up our beautiful valley," David says.
Oh, and apparently one will also boast a wood-fired hot tub. The perfect excuse to return to this rural retreat; maybe next time even with Mrs Yowie in tow.

Fact File

JRs Hut: Open-plan eco-hut with views to die for. From $350 per night. For more on JR's hut and other accommodation options at Kimo Estate, which is located about 10 minutes' drive to the west of Gundagai on the Nangus Road, check-out: www.kimoestate.com. Gundagai is an easy 160km (allow 100 minutes) drive from Canberra.

Tim's Tip: Make sure you arrive before dusk, even if it means leaving work early. You won't want to miss the sunset.

Rebirth of Gundagai: In their efforts to further change the perception of Gundagai from "just an overnight stop" for weary travellers on the Hume Highway to "a destination which attracts a broader range of visitors to enjoy the natural and gastronomic offerings of the area", the Fergusons are also in the process of converting an historic 1888 old convent building in the centre of town into a boutique hotel. The pioneer-themed hotel with a very modern twist, named Flash Jacks after the Australiana song Flash Jack from Gundagai, published in The Land newspaper in 1930 by an anonymous contributor, is expected to open later this year.

Captain Moonlite's Grave: Andrew George Scott's final resting place is at the top end of the North Gundagai Cemetery (William Street). You can't miss it.

Spotted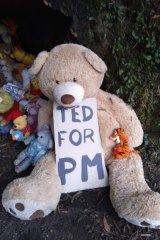 The teddies at Pooh Corner appear better informed about current affairs than most motorists would expect.
Last week one bear at the landmark hairpin bend on the Kings Highway appeared adorned in a "Ted for PM" sign, a cheeky reference on the revolving door of the office of Prime Minister of Australia.
Meanwhile, earlier this week another bear at the busy corner was seen with his paws wrapped around a honey pot.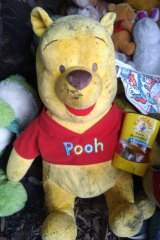 "Let's just hope Pooh is feasting on real honey and not 'fake' honey," muses Phill Sledge of Kaleen, a regular Clyde Mountain commuter, referring to recent claims that some honey products on our supermarket shelves are "adulterated", meaning it has been mixed with something other than nectar from bees.
Although Pooh's honey pot of choice hasn't been analysed, unlike Sledge, I have faith that Pooh would only indulge in the real thing.

Contact Tim: Email: timtheyowieman@bigpond.com or Twitter: @TimYowie or write c/- The Canberra Times, 9 Pirie St, Fyshwick. You can see a selection of past columns online.

Where in Canberra?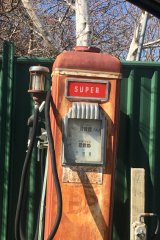 Cryptic Clue: Near an ancient monument (in name only)

Degree of difficulty: Medium
Last week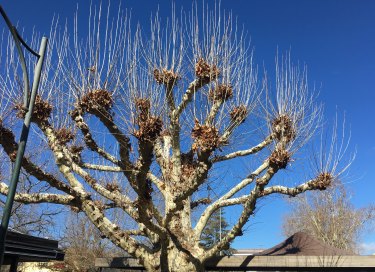 Congratulations to Paul Gamp of Garran who was the first reader to correctly identify last week's photo as a London Plane tree (Platanus x acerifolia) at the intersection of Bougainville Street and The Lawns at Manuka.
The clue 'freaky' related to the world-famous (on Instagram at least) 'freakshakes' (milkshakes on steroids) dished up by Patissez café which overlooks a number of the eye-catching trees.
Andrew Carter reports the tree "is a natural hybrid of a north American species and a west Asian species and the original hybrid seedlings come from the botanic gardens of the Oxford University where the two species were planted."
Lindsay Pryor, director of ACT Parks and Gardens from 1944-1958, first directed the pollarding (a skilful form of pruning which involves the removal of the upper branches of a tree to promote a dense head of foliage and branches) of this tree, after he viewed the technique on a research trip to Japan in 1946.
Meanwhile Tim Levy reports that the "vent of sorts" in the small car park behind the Canberra Theatre (Where in Canberra? September 25) "is the flue for a gas-fired boiler, which supplies heat to the theatre's air-conditioning system."

How to enter: Email your guess along with your name and address to timtheyowieman@bigpond.com. The first email sent after 10am, Saturday, September 8, 2018 will win a double pass to Dendy - The Home of Quality Cinema.