It looks pretty grim from above, but the National Arboretum boss' take on the acres of dead or dying grass at the popular tourist attraction is somewhat surprising.
Aerial photos of the arboretum taken on Tuesday morning show lush, green lawns around the Village Centre and Margaret Whitlam Pavilion, but the same can't be said for the rest of the 617-acre site.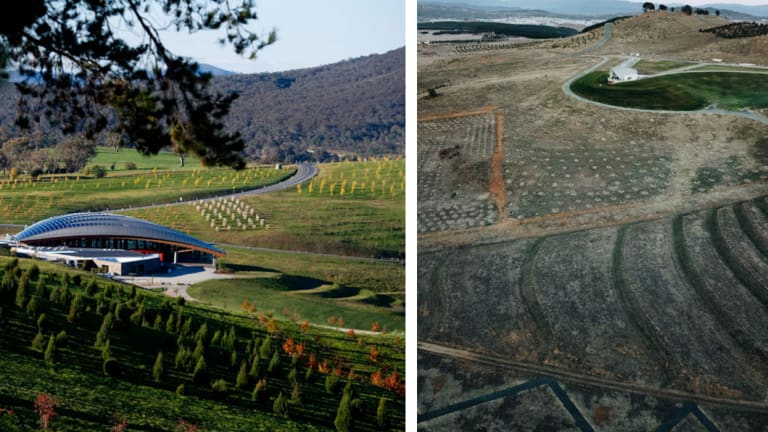 The ACT is in the midst of a prolonged dry spell, with just 69.6 millimetres of rain recorded at Canberra Airport between March and June, making it the driest four-month period at that time of the year since 2004.
National Arboretum executive manager Scott Saddler said far from being concerned about the state of the turf, he was pleased to be saving money on maintenance.
"The only irrigated grass that we have is around the VC [Village Centre] and the Margaret Whitlam," Mr Saddler said.
"If there's green grass across the whole site, we'd spend a fortune to maintain it."
Mr Saddler said it was difficult to estimate how much money the arboretum was saving because mowing patterns were seasonal.
While the irrigated lawns around the Village Centre and Margaret Whitlam Centre were mowed once a week, Mr Saddler said maintenance of the grass across the rest of the site was dependant on the weather.
He said the arboretum always kept the grass below 50 millimetres, in line with bushfire regulations.
"Sometimes the contractors will mow for four or five months of the year," he said.
"In other years, they've been mowing for 11 months."
Mr Saddler said the dry weather had not impacted the health of the arboretum's trees.
"The 44,000 trees are irrigated by drip tubes underneath the mulch, so people don't see them," he said.
"We're under no duress here at the moment."
Blake Foden is a reporter at the Sunday Canberra Times. He has worked as a journalist in Australia, New Zealand and the UK.