For philanthropist Louise Tuckwell, the latin motto of the Australian National University's latest student college, Wright Hall, has a very practical translation.
"Get on with it, get on with each other and be grateful," she says.
Now distilled into an ancient language by the university's crack linguistic team ("Tenacitas Comitas, Gratia"), it's a spirit she hopes will underpin life at the hall for its 428 residents when the doors open in first semester next year.
The residence, named Wright in honour of Mrs Tuckwell's own family, is one of three currently under construction as part of the university's ambitious new campus development.
In 2016, Mrs Tuckwell and her husband Graham, a businessman and ANU alumnus,  pledged $100 million to create Wright Hall and build a new Bruce Hall at the Acton campus. On top of their $50 million gift four years earlier, which first launched the Tuckwell scholarship program in 2013, it became the most generous philanthropic donation of its kind to an Australian university.
More than 110 students have since become 'Tuckwell Scholars' through the program, which bequeaths about $21,000 per year to some of the country's brightest. The next round of interviews for 2019's cohort will kick off on Friday but Mrs Tuckwell, who sits on the selection panel, says it's about more than brains.
"Its about giving heart, we want people who don't take the easy road, people who give back."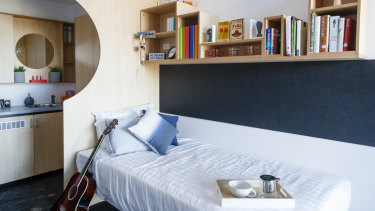 As the ANU gears up to introduce a radical overhaul of its admissions process in 2020, Professor Schmidt said it was also planning to expand its scholarships to help more students from diverse backgrounds find their way to the national campus.
"We learnt a lot from the Tuckwell program,  it inspired this, it's such an innovative model," he said.
"Not everyone [can afford] to come here and I just have to fix that, we offer about 100 scholarships right now, I want to make that 300...I'd like 20 per cent of our cohort to eventually be on one."
When the new halls open, their fees will stay at Bruce's current rate of about $18,000 a year, which includes meals, he said, and its modest revenue would go back into funding more scholarships.
"We're one of the cheapest in the Group of Eight, some of those colleges are more than $30,000 a year, but it's still a lot, which is why we're ramping up our fundraising."
Last month, concerns about academic freedom saw the ANU knock back a generous offer from the philanthropic Ramsay Centre to create a new degree in Western Civilisation, which would have also offered about 30 scholarships worth $25,00 each.
Having since weathered a storm of criticism over the backdown, Professor Schmidt said the deal came with "unacceptable" intrusions into the curriculum and staffing of the university.
"But the scholarships were actually a great model, we had no complaints about those," he said.
While government funding remained "reactive" and uncertain, such gifts as the Tuckwells could help universities stay innovative rather than "just plan for the worst", Professor Schmidt said.
The Wright name came to Australia in 1788 with the First Fleet and a young man named Joseph. He and his wife, Eleanor, also a convict, survived "terrible conditions", Mrs Tuckwell said, but they survived and started a family.
Standing between the Bruce and Wright construction sites on Thursday, Mrs Tuckwell admitted the moment held a particular poignancy.
"My father has just passed away and [we called him] Bruce so it's been very emotional for me," she said.
"I never lived on campus at uni but I always wanted to. I think this will help create a lot of connections and friendships...it can be life-changing for people."
Professor Schmidt agreed. But, while he said his son had benefited greatly from living at Bruce Hall, his own time at the University of Arizona was a little less glamorous.
Walking from his Alaskan hometown into a searing 36 degree summer, Professor Schmidt recalled sharing a "squashed" little room, without air-conditioning.
Wright's single rooms are something of a luxury by comparison he said, with high ceilings and private balconies, hot water and large common rooms on each floor, offering soaring views of the campus.
While there had been a joke flying around that Wright, as sister college to Bruce Hall, should be called 'Sheila', Mrs Tuckwell said the name was fitting.
"May all who enter know they have come to the right hall."
Sherryn Groch is a reporter for The Canberra Times, with a special interest in education and social affairs