Theatre design scaled back
What might have been! ArchivesACT's fossickings have just discovered that by February 1960, dreamers - one of them Jorn Utzon, designer of the Sydney Opera House - imagined a relatively grand, perhaps 3000-seat, Canberra Theatre. What's more, their grand dreams had it perched atop Capital Hill.
The National Capital Development Commission's 15-part file 60/400 - Canberra Theatre Centre - Design and Construction is this month's ArchivesACT's ever-fascinating Find of the Month.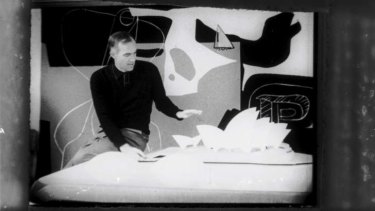 Alas, sober thoughts and pragmatic considerations of cost soon took the wind out of this majestic and exciting galleon's sails. Only a few weeks later, thoughts had turned instead to a far smaller Canberra Theatre (of 1200 seats) and with this venue installed, more self-effacingly, down in Civic Square. A neat National Capital Development Commission drawing of 1960 depicts substantially the Canberra Theatre (set where it is today, in Civic Square) that was duly built, that had its opening night on June 24, 1965 (a gala performance by the Australian Ballet) and where tens of thousands of Canberrans have since been variously delighted and appalled by entertainments.
By 1960 the plucky, matronly little Albert Hall was no longer good enough to be the only theatre for this culture-loving metropolis. In February 1960, NCDC head John Overall and supervising architect Frank Yeates went to Sydney to seek the theatre-building advice of none other than Jorn Utzon and his associate Lautrap-Larsen.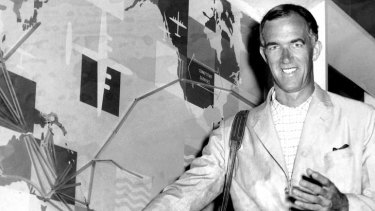 The minutes of the meeting show Overall agonising over costs and about how to stop the proposed theatre's ''tower'' being to be obtrusively tall. (Yes, it is only in very recent years and at New Acton that we've dared to build anything in the CBD that struts its stuff.) Utzon told of some of the cost-cutting lessons he'd learned from his character-building Sydney Opera House experiences (he thought it would be relatively cheap to reduce the obtrusiveness of the theatre's tower by excavating a pit to stand it in). Then there was various discussion led by Utzon and his fellow Scandinavian Lautrap-Larsen, of successful theatres they knew of built in Sweden at Gothenburg and Malmo. Utzon used a drawing he had made to show how screens or curtains could used to create intimate little theatres within the cavernous space of the 3000-seat cavern being discussed.
It makes one wistful to think what kind of Canberra Theatre might have arisen if the creative Dane had been further involved with it but he seems never to have been involved again.
The contract was won by Yuncken Freeman Architects of Melbourne, and on June 24, 1965 the Australian Ballet gamboled on to the stage of an only just finished venue where, the next day's Canberra Times recorded, just three hours earlier ''giant lorries had been scrambling up and down the road outside the theatre carrying away building debris''.
The Times critic rejoiced that it had been a night of ''flags, floodlights, fanfares, glamour gowns, fantastic furs, soul-satisfying music …'' only a little marred by the restrained Canberra audience being far too tightly corseted (''Not a single 'bravo' at the final curtain'') and containing ''some barbarians applauding in the wrong spots''.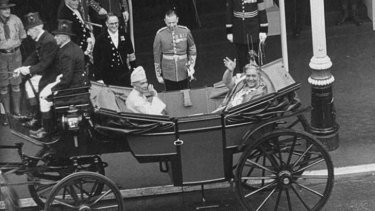 Tonga queen braved rain on parade
It is the 60th anniversary of the coronation in 1953 of our noble, gracious Queen. For those who were there on the day and who saw the fabulous post-crowning procession, one of the enduring memories was of Queen Salote of Tonga. Those who saw this drizzle-defying monarch in her open-topped carriage included the late English playwright and wit Noel Coward, and the alive and kicking Keith Forsey of Campbell.
Queen Salote was, as well as being very accomplished, a very physically substantial woman and the press had fun with the notion that at the coronation she was ''the tallest queen from the smallest nation''. Already an endearing person (she had a cheery demeanour) she further endeared herself to everyone on the day by riding in the procession on a rainy day in an open carriage, with a small male companion, enabling everyone to get a far better look at her than they did at Queen Elizabeth who was, of course, encased in her golden, fairytale coach.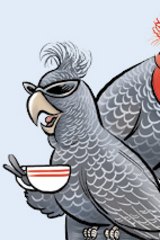 Legend has it that one of Noel Coward's companions watching the procession wondered aloud who the diminutive man was in Queen Salote's carriage and that Coward quipped unforgivably, ''That's her lunch.''
Nothing so reprehensible occurred, thank goodness, to the respectful, teenage Keith Forsey.
He was a graduate of the Royal Australian Naval College but was an England-based naval cadet when the coronation came. ''I was a member of a squad of 100 cadets selected for duty at the coronation. On the day of the coronation we went by special train to London and … were put to the task of lining the streets near the Abbey. We were there most of the day but had a front-line view of the procession … I remember it rained quite a lot but this didn't worry us. I was impressed by Queen Salote of Tonga, who also didn't mind the rain.
''In 2005 I was in London with my son and proudly pointed to the spot where I stood more than 50 years before as a 17-year-old who had a front-row position at the coronation.''