Thieves grab nappy bag in Queanbeyan's Riverside Plaza, almost ends in disaster
Steph Stewart, 27, is just happy she'd taken her little girl out of the pram a moment earlier, normally she leaves the baby in the pram while she starts the car.
The Queanbeyan mother and her baby had a close call on Sunday when thieves in a stolen car snatched a nappy bag attached to her pram, grinding the pram into a concrete pylon as Ms Stewart yelled at them to stop.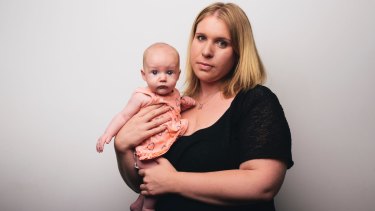 "As a mum you still freak out the baby's still in there even if she's in your arms," Ms Stewart said.
"I don't think they cared whether she was in there or not."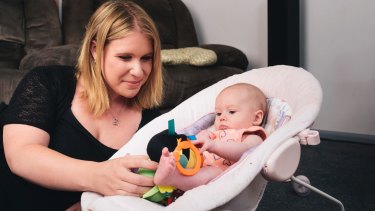 Luckily, Ms Stewart, who was having lunch with her father at Riverside Plaza, was putting her daughter Evelyn into the car in the underground parking lot when the thieves struck.
Police said a car approached about 3.45pm when a front passenger grabbed the nappy bag from the pram right behind Ms Stewart. Her father yelled out and chased after the pram.
As the car drove off, the bag was still stuck to the pram, causing it to be dragged along with the car before it hit a concrete pylon, jamming between the pylon and the car as the thieves revved their engine until the pram buckled and the bag broke free.
One of the thieves' watches, which had split open on the pylon, and the contents of the torn bag, including Ms Stewart's wallet, flew out across the car park as the culprits escaped with a near-empty bag.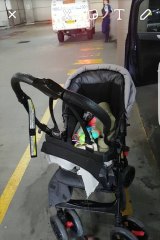 "Because it all happened really quick, I didn't even really think someone would do such a thing," Ms Stewart said.
She shared a picture of the aftermath on Facebook and said all that mattered was her baby was safe, but warned other mothers to be vigilant.
"Even this morning waking up I had a few teary moments looking at Evelyn, just thinking about what could have happened," she said.
Another woman, Jess Wilson, contacted her after recognising her rego number on the Facebook post and said the number plates had been stolen. Ms Stewart said another woman claimed to have been followed moments before in the lot by the same car.
Ms Stewart said people had contacted her offering prams and nappy bags.
"It's overwhelming how good people can be," Ms Stewart said.
Police didn't have any information on the person or people inside the car, but said they were driving a maroon Nissan Pulsar sedan bearing red P-plates with registration CDJ 12J.
Police said they were viewing it as a theft and urged anyone with any information to contact Queanbeyan police or Crimestoppers on 1800 333 000.
Finbar O'Mallon is a reporter for The Canberra Times