Thousands of music lovers flock to the National Folk Festival at EPIC
There was music and laughter in the air as thousands of spectators and music fans made the pilgrimage to the 49th National Folk Festival to begin their Easter long weekend on Friday.
Crowds flocked to Exhibition Park to listen to the festival's biggest line-up of international acts and make the most of dozens of food and craft stalls on Friday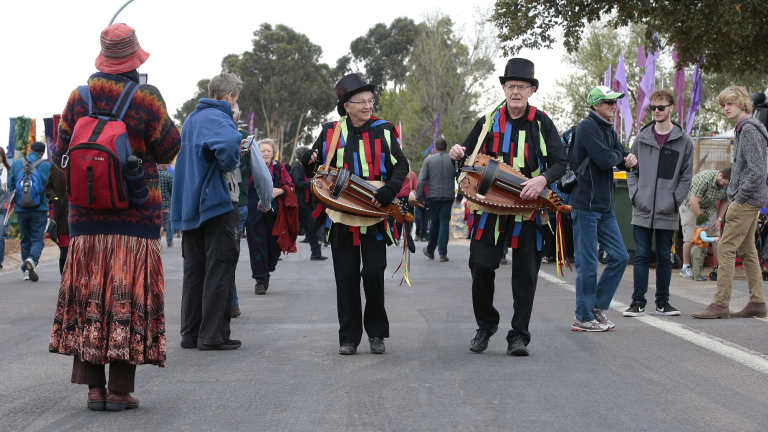 There were 23 international performers spread around the 18 venues including multi-Grammy award-winning ukulele player Daniel Ho, Chris While and Julie Matthews from Britain and blues performers Joe Filisko and Eric Noden from the United States.
Well-known performers from the world folk scene joined more than 180 Australian acts for the event, which began on Thursday.
The weekend program also featured vibrant performances from Afro-Celt fusion band Baka Beyond and Canadian singer-songwriter David Francey.
Event director Pam Merrigan said the Good Friday crowd looked to be about 10,000, which was on par with previous years.
Performances by English folk revivalist Bob Foxey and Blue Mountains singing group Spooky Men's Chorale had been popular with the music-loving crowd.
"The park looked very full and all our venues were full," Ms Merrigan said.
"The atmosphere's fantastic and a lot of people are bringing their kids and taking them into the big halls.
"People are catching up with their friends and everyone's just having a good time."
Ms Merrigan said organisers had hoped to draw more young people to the event and to folk music in general.
"We had a very, very pumping night in our Scrumpy bar, which is a dance party for the 18 to 35s, on Thursday night.
"It was really full and going off."
Brisbane couple Sue and Bob Colchester first got into folk music more than two decades ago when they lived in France.
They danced their way through the Canberra festival and played copies of 19th century hurdy gurdy instruments on Friday.
Mrs Colchester said the unusual string instrument originated in France and Spain in the 12 century and often attracted strange glances.
"People look at you completely blankly and say 'What on earth is that?', but in fact the sound works very well with an accordian.
"It sounds a bit like a bagpipe."
Canberra-based stallholder Craig Chan, who peddled his Native American flutes, had been coming to the festival for about 15 years.
He carved the wooden flutes by hand, which took about three weeks.
Mr Chan said the annual festival was an opportunity for folk music lovers to get together and there was a good sense of community.
"Each year gets better and better.
"I think a lot of kids come here and it's interesting to see them grow up and see what kinds of instruments they decide to play."
About 50,000 people are expected to attend the five-day event.
Details: Visit folkfestival.org.au.
Megan Gorrey is a reporter at the Sydney Morning Herald. She was previously a reporter at The Canberra Times.