Tim the Yowie Man: cultural and natural secrets of Yerrabi, Ginninderra electorate
Depending on which side of Lake Burley Griffin you live on, whether you like it or not, you are either a "north-sider" or "south-sider". However, in the upcoming ACT Election, for the first time since self-government the territory will be carved up into five electorates, each with an Aboriginal name with a connection to the landscape.
To celebrate this connection, over the next three weeks this column will reveal the cultural and natural secrets of each electorate.
Today, the spotlight is on Yerrabi and Ginninderra in our city's north.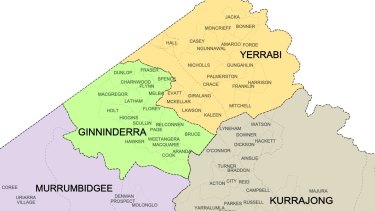 Spotlight on Yerrabi
Yerrabi is a five member electorate comprising the districts of Gungahlin and Hall, the Belconnen suburbs of Evatt, Giralang, Kaleen, Lawson and McKellar and that portion of Belconnen District adjacent to the Barton Highway.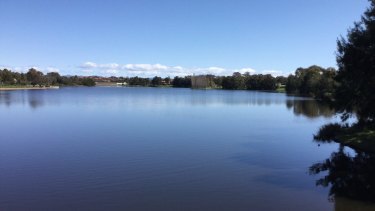 Did You Know? 'Yerrabi' is derived from an Aboriginal word meaning "go", "walk" and "to leave". Yerrabi pond is one of the major water features in Gungahlin.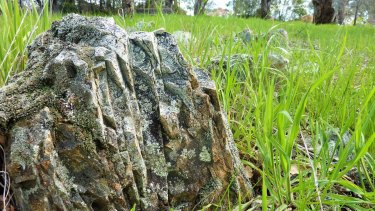 Timeless treasure: Hidden among grass at the end of Quist Place in suburban Nicholls is a small rocky outcrop where Aboriginal people quarried stone to manufacture stone tools. It's not sign-posted and when I photographed the rocks earlier this week a couple of local residents I bumped into were most surprised to find out that such a significant cultural site was just metres from their front doors.
Settler's secret: While the location of stone Ginninderra School House (now occupied by Sweet Copper restaurant at Gold Creek Village) is known to many, less known is that for the first two years of operation 1892-93, the school operated out of a tent. And to think today's kids complain if the heater is on the blink for an hour or two. For the young at heart, the school bell, hidden among foliage of nearby mature pine, can still be rung.
Unsolved mystery: Paranormal investigators claim a ghost of unknown origins haunts historic Gold Creek Homestead. According to Bronwen Pratt, of Yass, Johnny Warren, the late Australian soccer legend who hosted soccer clinics, rodeos and concerts at the homestead in the 1970s and 1980s, "would often be spooked by a ghost which rattled the windows in his office". The 145-year-old stone and brick homestead, located at the northern end of Gungahlin Drive, between Horse Park Drive and Wanganeen Avenue is privately leased and can only be viewed from the road.
Natural Wonder: Scattered throughout the Yerrabi electorate are more than a dozen nature reserves, which following recent rain, are about to burst into colour with native spring blooms. My pick of these is Percival Hill, located near the roundabout at the intersection of the Barton Highway and Gundaroo Drive, which Karen Longmuir of Nicholls reports is also a haven "for kangaroos, swamp wallabies, echidnas, shingle backed lizards, black cockatoos and wedge tailed eagles".
Spring stroll: Yerrabi is blessed with arguably the most scenic stretch of the 145 kilometre long Canberra Centenary Trail, a 5 kilometre section which gently climbs from Hall Village to One Tree Hill. It's an easy walk (allow 2.5 hours return) offering sweeping views of the electorate's sprawling northern suburbs. The kids will love the scramble to the top of the hill which is topped by a fire tower and the extent of the 360 degree views will surprise all. Finish with a cold drink and ice cream back in historic Hall Village.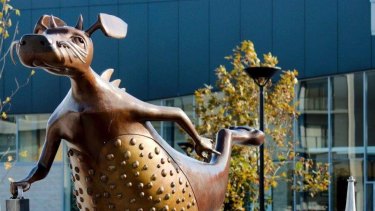 Curious cryptid: Although the bunyip is a water-dwelling creature from Aboriginal mythology, it has also infiltrated contemporary folklore, including in Michael Salmon's first children's book The Monster that ate Canberra (Halstead Press, 1972) which features "Alexander" a hungry bunyip who famously gobbles-up some of our city's iconic landmarks. While a real bunyip might be hard to find wandering the streets of Gungahlin if you cast your vote at the Gungahlin Library (corner of Hibberson and Gozzard streets), you'll come face-to- face with an eye-catching larger than life statue of Alexander.
Don't miss: Search for nocturnal animals, including the endangered and oh-so-cute Eastern Bettong on a night a twilight tour of Mulligans Flat Nature Reserve. These popular 2.5 hour adventures which are suitable for fit adults and children over 10 years of age (cost $49.50 per person) run regularly through the year, including each Wednesday and Friday this spring. Booking details here: www.mulligansflat.org.au
Spotlight on Ginninderra
Ginninderra is a five member electorate comprising the district of Belconnen (excluding the suburbs of Evatt, Giralang, Kaleen, Lawson and McKellar and that portion of Belconnen District adjacent to the Barton Highway).
Did You Know? "Ginninderra" is derived from an Aboriginal word meaning "sparkling like the stars". It is the name given to the creek that flows through the middle of Belconnen, which was dammed to form Lake Ginninderra, the lake on which the Belconnen Town Centre is sited.
Timeless treasure: Along a 60 metre or so stretch of Ginninderra Creek in Latham are around 20 artefact grinding grooves on boulders and slabs of hard volcanic tuff on both sides of the creek and in the creek bed. According to the ACT Heritage Council, the deep-cut grooves which are well-preserved were made by Aboriginal people in the course of sharpening the edges of tools such as hatchet heads and wedges. Just last week, the site was provisionally added to the ACT Heritage Register.
Settler's Secret: Growing just behind the Belconnen Community Centre in Swanson Court which is one of the busiest polling booths in the electorate of Ginninderra is a grand old English elm tree. The elm is the only surviving evidence of a 4000 hectare sheep station that was established here in 1826. George Thomas Palmer, one of Ginninderra's first land owners, built Emu Bank Homestead on the site and the surrounding area was known as "Emu Bank Paddock" due to the large number of emus which once roamed the area.
Unsolved mystery: Scattered across parkland and footpaths in the suburbs of Latham and Macgregor are dozens of man-made "standing stones". Some of them have been partially sunk into the ground, and look like rough concrete, coated in a smoother, cement skin. Several years ago this column unsuccessfully attempted to uncover their origins with some readers hypothesising the concrete pillars were the remains of Cranleigh "farmhouse" which was built on land now bounded by Kingsford Smith and Southern Cross Drives in Latham.
There are reports that some of the bricks of the dismantled Cranleigh were sold in 1955 and used as pavers on the nearby Pine Ridge property, however why (and when) so many stones have ended up scattered across parkland in West Belconnen, remains a mystery.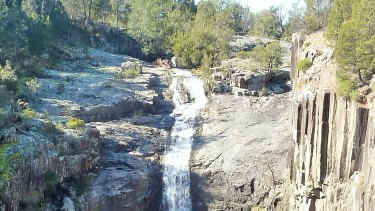 Natural Wonder: Just five minutes' drive from the backyards of some Belconnen suburbs is spectacular 40 metre high Ginninderra Falls. Once open as a private tourist park, from the late 1990s the owners progressively restricted public access and eventually closed the site completely in 2004, citing escalating insurance costs. This has resulted in a whole generation of Canberrans (and visitors to our fair city) being shut out of the park. Oh, and any of the record 22 candidates for Ginninderra who jumps on this column's well-documented five year crusade to turn the falls into a national park will win my vote.
Spring stroll: Back in 2012, in a peculiar protest against cost of living on campus, William Woodbridge a University of Canberra student spent several months bunking down in a floating teepee on the Lake Ginninderra. While his teepee is long gone, there is still lots of changing scenery to enjoy on the well-trodden 7.2 kilometres paved loop around the lake.
Curious cryptid: While mystery animal aficionadas in the electorate of Yerrabi have to be content with a bunyip sculpture, according to reports in Lyall Gillespie's 1992 historical booklet Ginninderra, forerunner to Canberra. A history of the Ginninderra district (ACT Heritage Unit) constituents in Ginninderra may have a 'real' bunyip "the size of a big god", to contend with. Apparently it lurks in the murky waters of the Murrumbidgee River near it's confluence with Ginninderra Creek, and the paucity of sightings in the creek itself are because "the bunyip, or kianpratel as the Aborigines called it – could not have scaled the Ginninderra Falls."
Don't miss: Friends of the Pinnacle Nature Reserve are hosting a special walk on Sunday 16 October from 9am-11.30am to showcase the 20 hectare extension on the reserve's southern edge near William Hovell Drive. Bookings essential. Ph: 0405331405 or convenor@fotpin.org.au
Electorate Eyesore
Have you noticed Ginninderra House, that conspicuous two story lakeside building at the end of Evelyn Parker Place, Belconnen lately? The concrete sentinel, a former home to the water police, is looking quite drab and could do with a facelift. In fact, it was recently identified in ACT Government's 2016-2017 Land Release Program, noting that subject to a future development application it could be transformed into an entertainment precinct.
But does the iconic former law enforcement fortress need to be ripped-down? Imagine it transformed into a recreation hub with a bike and boat hire operator downstairs and a café upstairs. Refurbished, it could also incorporate a much needed education and information hub about the flora and fauna of the lake and surrounds. Throw in a fish 'n' chip shop and a lifeguard and it could be the summer place to meet in Belco. Thanks to David Fennessy for the concept sketch.
WHERE IN CANBERRA?
Clue: First erected 138 years ago.
Degree of difficulty: Medium, bonus points if you can also identify the electorate.
How to enter: Email your guess along with your name and address to timtheyowieman@bigpond.com. The first email sent after 10am, Saturday October 1, 2016, with the correct answer wins a double pass to Dendy cinemas.
CONTACT TIM: Email: timtheyowieman@bigpond.com or Twitter: @TimYowie or write c/- The Canberra Times, 9 Pirie Street, Fyshwick. You can see a selection of past columns here.
Canberra's intrepid adventurer, mystery investigator, and cryptonaturalist. Nobody knows the Canberra region like Tim the Yowie Man.