Tim the Yowie Man: The terrified trawlermen
Emerging from a fisherman's track faintly-trodden into the coastal scrub, I finally step onto the golden sands of Richmond Beach.
Usually the domain of seagulls and shore birds, this little-known beach just north of Batemans Bay receives few visitors in high summer, let alone during the depths of winter. However, today is an exception.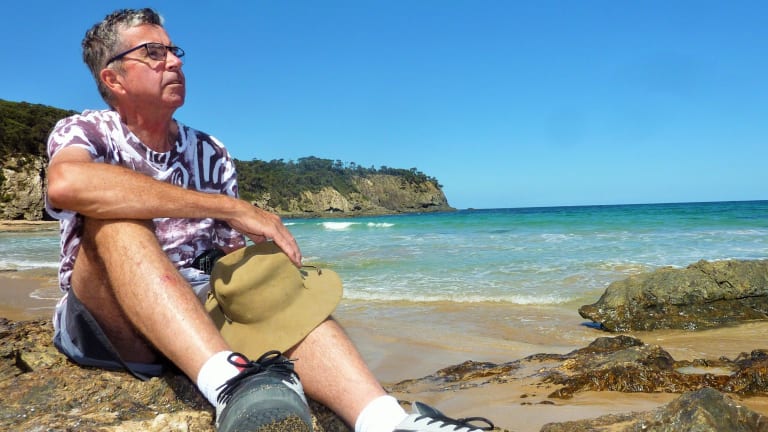 I'm here to meet Richard Fisher formerly of Canberra and now of Mossy Point. A keen amateur historian, Fisher is here to pay his respects to three innocent trawlermen who lost their lives when their small fishing boat, the Dureenbee, was destroyed by a Japanese submarine almost 75 years ago to the day.
I find Fisher perched on a rock above the low tide mark. He is gazing seaward and in deep contemplation.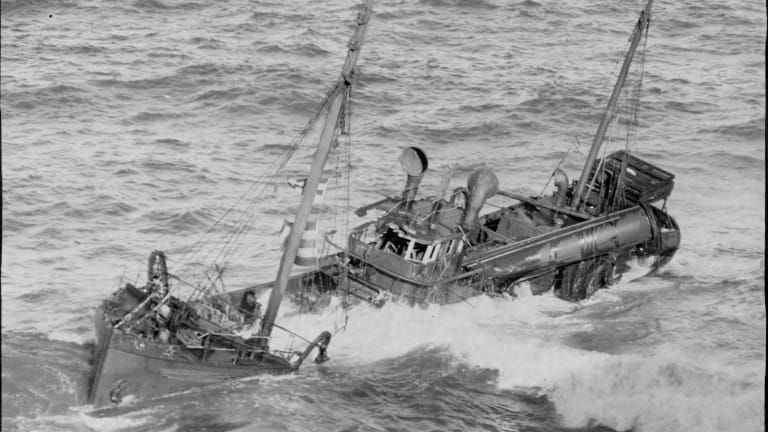 "Not many people, even locals are aware of the tragedy which occurred off the coast," says Fisher, ever the optimist in T-shirt and shorts despite the cool conditions.
"I grew up in Canberra with no idea that Australians were killed in World War II just a few kilometres from where I'd gone surfing for many years," reveals Fisher who first became aware of the wartime disaster back in the 1980s.
Although the rusting wreck of the Dureenbee lies submerged just off this beach, Fisher explains that the fishing vessel's fate was sealed further south, "about 25 km off Moruya Heads".
"In the early hours of August 3, 1942, the 35-metre steam trawler was attacked by the Japanese submarine I-175," explains Fisher, adding, "the cannon fire was so loud it awoke the residents of Moruya."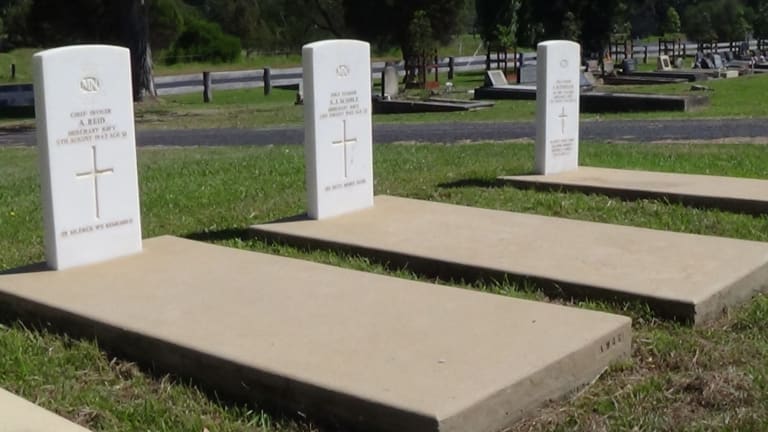 According to Fisher, "the trawlermen were busy setting their nets and unaware the submarine was even there until a flash of light was quickly followed by an explosion."
"Immediately upon realising their situation the wireless operator, a fella called Wilson, sent out a distress signal," explains Fisher, adding "but before Wilson could signal again, the submarine's machine guns opened fire and his hand was blown off."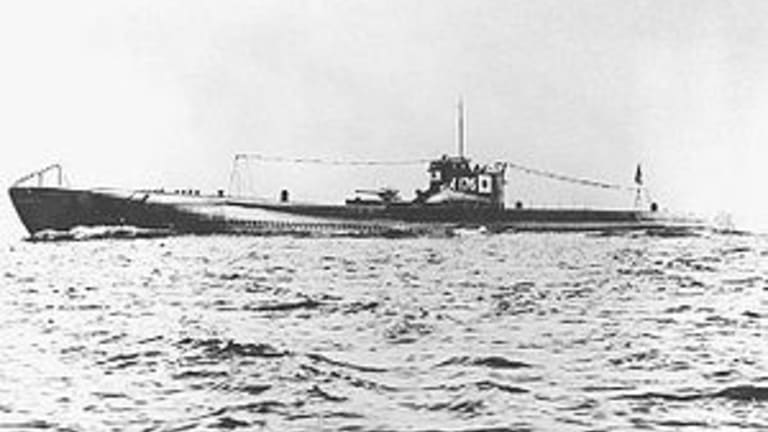 The Dureenbee's skipper, Captain William Reid, who had served as a Royal Navy volunteer in World War I desperately attempted to contact the submarine to let them know his fishing boat was unarmed, but the guns continued to fire.
"The submarine fired more shells into the Dureenbee's superstructure which destroyed the wheelhouse and badly damaged the main steampipe, bringing the vessel to a stop," reports Fisher.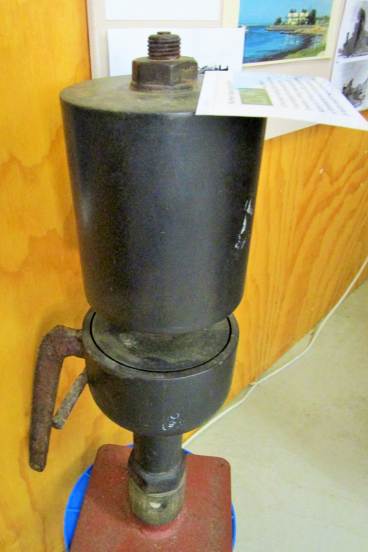 "Once the sub disappeared, Reid checked his crew to find one dead, two seriously injured and his remaining crew sheltering behind machinery suffering various minor injuries," explains Fisher.
Reid then sent up flares hoping to attract assistance, but the distraught crew of the Dureenbee was forced to endure another five hours on their stricken vessel before she was located with the assistance of an RAAF aircraft stationed at Moruya
The rescue vessel, another trawler, the Mirrabooka ferried the survivors and two dead, Able Seamen Archibald McPherson and Arthur Scrobles to Moruya. A third crewman, Chief Officer Alexander Reid, died from wounds two days later.
"After the crew were taken off, the wreck drifted to north of Batemans Bay before foundering on rocks off this very beach," explains Fisher glancing seaward again.
Although he has no direct connection to those who lost their lives, Fisher hopes this week's 75th anniversary of attack on the Dureenbee will serve as a reminder of the day the horrors of World War 2 came to Batemans Bay and surrounds.
"Although unarmed, the Dureenbee was catching fish to put in tins to take for the soldiers fighting the Japanese in Papua New Guinea," says Fisher, explaining "so in that sense she was a casualty of our war effort".
"We cheered the troops for bombing German factories but in the same way the Japanese were attempting to disrupt our logistics by destroying our merchant ships," reflects Fisher, adding "throughout 1942 and 43, the Japanese made a concerted effort to disrupt trade shipping along Australia's south east coast, sinking seventeen vessels."
Following the war, parts of the Dureenbee wreck were souvenired by collectors. These included the steam whistle, which for several decades was used to signal factory shifts at Perry's Mill in Batemans Bay.
According to an article penned by Tony Abbey and Shirley Clifford for The Canberra Times (27 December, 1980), "at one of the caravan parks in Batemans Bay you will find the Dureenbee's wheel adorning the front entrance and an abalone diver has one of her anchors in his front yard".
I wonder if these relics are still in situ and whether there are others stashed away in private collections.
Fact File
Watery Grave: The wreck of the Dureenbee lies on a bombora, located just off Richmond Beach in Murramarang National Park.
Wreck relics. The whistle salvaged from the Dureenbee is now on display at the Old Courthouse Museum (3 Museum Place, Batemans Bay, open Tuesday – Thursday from 10am to 3pm and the second Sunday of the month 10am - 1pm. Ph. 4472 1635 or oldcourthousemuseum.com.
Did You Know? Arthur Scrobles, one of the victims of the attack, received 22 bullet wounds while trying to launch a lifeboat. The grave of Scrobles and his two fatally-wounded colleagues are in the Moruya Cemetery.
More: The attack of the Dureenbee is featured on Richard Fisher's website: brouleebayfolklore.weebly.com
MAILBAG
Out-of-Place Lyrebirds
Prompted by last week's exposé on lyrebirds (Call of the Wild), Glenn Pure points out that the superb lyrebird (Menura novaehollandiae) which is thriving in Tasmania isn't native to the apple isle.
Indeed, the superb lyrebird was introduced to Tasmania in the 1930s and 40s in order to save the bird from the perceived threat of foxes and habitat loss on the mainland.
"However, there is now some concern about their impact, being introduced species," writes Pure referring to a University of Tasmania research project which is "examining the impact that lyrebirds have on leaf litter and soil invertebrate communities both directly through predation and indirectly through changes to habitat brought about by foraging."
Meanwhile, if you haven't checked-out 'Aviary' at the Canberra Museum and Gallery (cnr London Circuit and City Square), you'd better be quick. The exhibition, which features artistic representations of many of our favourite birds, (yes, including a lyrebird or two) closes this Sunday 30 July. Open weekends 12noon – 4pm. Ph: 6207 3968 or web: www.cmag.com.au
Did You Know? During World War 2, recordings of lyrebird songs were sent to homesick Australian soldiers to remind them of home.
Convict Bridge
A number of readers including James Clark and Richard Kuhn answered this column's recent call for photos of the convict-built sandstone bridge spanning Black Bobs Creek at the Mackey VC rest area on the M31 (Hume Highway), near Berrima (29 April).
While admiring Clark's striking photo of the bridge, I couldn't help but notice the steps in the foreground which lead into the creek bed from left. To me they resemble a giant serpent, complete with stripes and bulbous head reaching over the water, and would be a worthy entrant for this column's regular Simulacra Corner, which features faces and forms in nature. Can you see the rocky serpent?
WHERE IN CANBERRA?
Clue: Church to hay barn, to church again.
Degree of difficulty: Medium
Last week: Congratulations to Peter Harris of Latham who was the first to correctly identify last week's photo (inset), taken by Linda Roberts of Kaleen as "one of three explosive storage magazines originally built for the Mt Mugga Mugga quarry at Symonston." Harris, who just beat regular entrants June and Ian McKenzie and Debbie Kensey of Wanniassa to the prize, reports "the magazines are located in the Callum Brae Nature Reserve, located east of Mugga Lane opposite the Murrays Australia office and workshop." Special mention to Paul Scanlan of London for his far-afield correct, albeit late entry.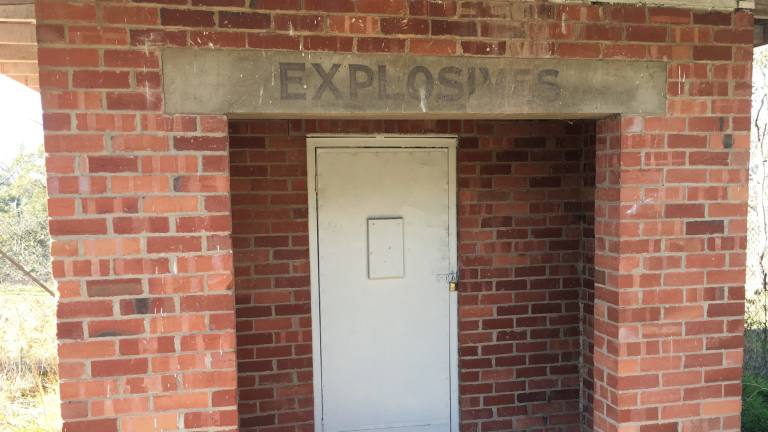 How to enter: Email your guess along with your name and address to timtheyowieman@bigpond.com. The first email sent after 10am, Saturday, July 29, 2017 with the correct answer wins a double pass to Dendy cinemas.
CONTACT TIM: Email: timtheyowieman@bigpond.com or Twitter: @TimYowie or write c/- The Canberra Times, 9 Pirie St, Fyshwick.
Canberra's intrepid adventurer, mystery investigator, and cryptonaturalist. Nobody knows the Canberra region like Tim the Yowie Man.